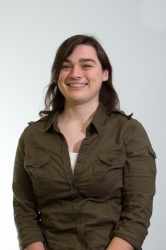 Meet Shayla Holbrook, one of our QE Software Engineers. Read on to learn a little bit more about Shayla.
How long have you worked at Cimetrix?
I have been working at Cimetrix since the end of July 2017—so just over a year!
Where did you go to school and what is your degree?
I earned my BS in Bioinformatics from BYU. I had been working toward a degree in Biology when I felt a strong draw toward computer science. I was lucky enough to discover a degree that would mesh the two paths instead of forcing a restart to my university education.
What brought you to Cimetrix originally?
Fresh out of school, I was looking for a company that would be a good match for me when I discovered a posting for Cimetrix. I did a bit of digging to try to understand more than the company's outward focus. I wanted to understand the culture and the way the employees felt about working here. What I discovered was a culture of unity, understanding, and a drive toward a common goal. So it was ultimately this culture that brought me to Cimetrix.
What do you like most about your job?
Honestly, what I like most about my job is the people. I love working with my team to build quality into our products. I also enjoy making sure everything is running smoothly and, in the case that it isn't, helping to discover how we can improve our products and processes.
What do you think it means to provide great Quality Engineering?
Quality Engineering is not just about the testing—as many people believe. It is about building the quality into our products as well as our process. This includes developing stronger test suites, reducing holdups in the test environment, modifying process documents to provide better clarity and unity, and raising questions that lead to create a smoother engineering process. Therefore, providing great quality engineering encompasses everything that would assist engineering to run smoothly and provide our best product.
What's the biggest accomplishment you've had at Cimetrix?
My biggest accomplishment was not something I did alone and is something still in progress. As a QE team, we gathered together and discussed the future of the team. Listening to everyone's viewpoints, I realized, and pointed out, that we were not only divided in our current direction but also lacked unity in where we believed our team should be heading and improving. I count pointing that information out as my biggest accomplishment because, since then, we have taken actions to not only unify in our course but to also actively seek ways to improve our team and our work.
How do you deal with challenges that come up at work?
One thing I love about Cimetrix is that I know I can talk to anyone about anything at work. So when challenges arise, I seek out the answers to the questions that will help me to deal with those challenges and solve whatever problem I may be having.
What's something you've learned while working at Cimetrix?
Always ask questions. It is always better to sound dumb than to assume you understand something and make a mistake. That mistake, no matter the size, could reduce the quality of the work being performed and will take more time to fix than it would have to ask the initial question.
What's your favorite vacation spot?
I am not quite sure I have a specific location. However, all of my favorite vacations have allowed me to spend significant time outside enjoying the fresh air and the beauties nature has to offer. One of my favorites being the time I got to spend a day in Germany's Black Forest.
What do you like to do in your free time?
I love spending time with my family above all else. After that, I enjoy reading, hosting campfires in the canyon, and working with my hands. Some of my creative projects have included carving Hobbes (the tiger) out of basswood, sketching dragons, and quilting a large sunset elephant throw quilt.