CIM300
Implement SEMI GEM300 Connectivity Standards
Semiconductor factories require 300mm equipment — and even some 200mm equipment — to comply with the SEMI GEM300 communication standards, as well as fab specific scenarios. The award-winning Cimetrix CIM300™ toolkit provides a complete complement of modules to implement those standards.
CIM300 empowers equipment suppliers to implement GEM300 and SECS/GEM standards-compliant interfaces with the minimum amount of time and cost. The CIM300 toolkit offers:
Industry-tested stand-alone modules to implement SEMI GEM300 standards: E39, E40, E87, E90, E94, E116, E148, and E157
A simple, language-independent process communications architecture and API
API functions to create, delete, and modify E39 Object Services
Cimetrix CIMConnect™ toolkit to implement SEMI SECS/GEM standards E4, E5, E30, and E37
Testing software included with the CIM300 SDK

TESTConnect™ testing software, a quick and easy graphical user interface for testing the SECS/GEM interface
SECSConnect™ to develop more complex testing scenarios
Cimetrix remains committed to maintaining continual involvement in the SEMI standards committees to ensure our products evolve in-step with those standards and fab specific scenarios.
Visit the CIM300 Resources page for more information.
CIM300 Architecture
The distributed CIM300 architecture provides fully thread-safe interfaces, which use a separate package for each standard. Multiple threads can access the same interfaces simultaneously-making it easy to implement concurrent process jobs, multiple load ports, and multiple process chambers.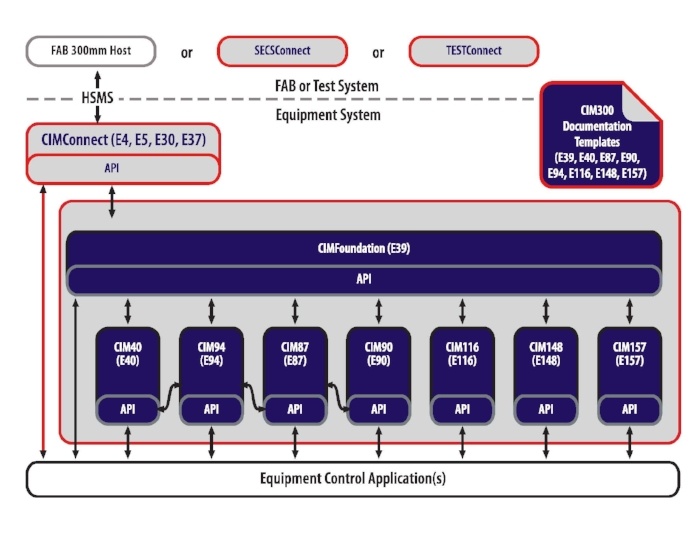 CIM300 delivers superior state machine monitoring and control by providing API functions to query the current state of all 300mm state machines, as well as callback interfaces for most of the state machines, to notify the application whenever the state changes.
In addition, CIM300 provides complete control to all state machines in order to manage any situation effectively, such as when a carrier is removed or when the machine is down.
CIM300 uses CIMConnect to manage the SECS/GEM (E4, E5, E30, E37) communication. CIMConnect is a client/server, multiple host communication product for SECS/GEM and other factory interfaces. Additional host interfaces can be based on any protocol.
Since entering the semiconductor automation market in 1999, Cimetrix has quickly become the leading provider of software products that comply with the demanding requirements of 300mm factory automation. The CIM300 product strategy provides solutions that implement all requirements published in the SEMI GEM300 communication standards and that conform to the SEMATECH and Selete base of functional requirements and scenarios. Cimetrix tests against both the SEMATECH and CCS testing scenarios and implements appropriate recovery functionality. CIM300 achieves maximum flexibility by implementing each SEMI standard as a separate software module with optional dependencies on other modules. Customers can purchase the modules as individual software products or together as an integrated solution. As the standards and scenarios further mature and new standards emerge, CIM300 will continue to provide compliance to the pertinent SEMI standards. CIM300/CIMConnect was given the Semiconductor International Editor's Choice Award in 2001.
Cimetrix Project Support
When you use a Cimetrix product, our goal is to allow you to control your own destiny. You get our dedicated, passionate support throughout the entire development process. We recommend product training to get your team up to speed quickly. If needed, we also have engineering personnel to work with you on project planning, engineering design, and initial deployment.
Talk to us. We have extensive experience replacing older GW products. Let us know your project requirements to see if CIM300 is a good solution for you.
Supported SEMI Standards