Cimetrix Presentations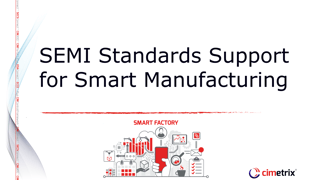 SEMI Standards Support for Smart Manufacturing
By: Alan Weber, Vice President New Product Innovations, Cimetrix Inc.
When the industry needed more capabilities to support emerging Advanced Process Control (APC) applications, The GEM (Generic Equipment Model) standards were born. Now every electronics manufacturing line is looking for ways to connect machines to achieve Smart Manufacturing. Established industry standards can enable cost-effective connectivity.
And many more...
ROI-based Approach for Evaluating Application Data Collection Use Case Scenarios
Smarter Manufacturing with SEMI Standards: Practical Approaches for Plug-and-Play Application Integration
The Role of Models in Semiconductor Smart Manufacturing

Analyzing Event Data: Where Does All the Time Go?
EDA Overview: Characteristics, Benefits, and Applications Presentation by Cimetrix
Raising the Bar: Foundry Expectations for Equipment Capability and Control
Equipment Data-Driven Continuous Improvement for 200mm Fabs
Lot Completion Estimation Using Self-Configuring Equipment Model-based Applications Presentation
The Power of E164: EDA Common Metadata
Factory Systems Architectures for EDA
Data Fusion at the Source: Standards and Technologies for Seamless Sensor Integration Presentation
Data-Driven Tool Control Architectures with Cimetrix & Axcelis Technologies