Cimetrix Resource Library
Welcome to the Cimetrix resource center! Explore our helpful articles, videos, presentations and more to increase your knowledge about factory and equipment automation. Check back often to view our most popular items.
Featured Items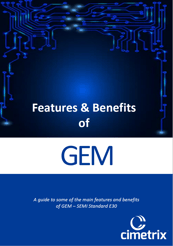 New Ebook - Features and Benefits of GEM
GEM is implemented on equipment and is used by the factory to implement command and control functions. Since it is an industry standard, any GEM-compliant host software can communicate with any GEM-compliant equipment. When fully implemented on the equipment, the standards enable factory software to completely control and monitor the equipment by means of its GEM interface. These standards provide numerous benefits to both equipment manufacturers and factories. Several of these benefits are highlighted in this eBook.

---