Resource Library
Welcome to the Cimetrix Connectivity Group resource center! Explore our helpful articles, videos, presentations and more to increase your knowledge about factory and equipment automation. Check back often for updated items.
Featured Items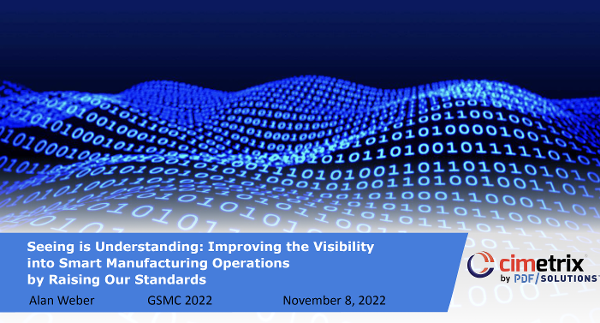 Seeing is Understanding: Improving the Visibility into Smart Manufacturing Operations by Raising Our Standards
Author: Alan Weber, VP New Product Innovations, Cimetrix by PDF Solutions
The manufacturing equipment in semiconductor factories—both front end wafer fabs and back end assembly, packaging, and test facilities—are arguably the richest sources of data about how well the production processes are being run. However, the lack of detailed visibility into equipment and process behavior is still cited as a limiting factor for effective smart factory management. The solution to this problem is not simply additional standards, but also includes deeper understanding of the available standards and broader adoption of the best practices for their implementation. Methods for accomplishing both are the focus of this presentation.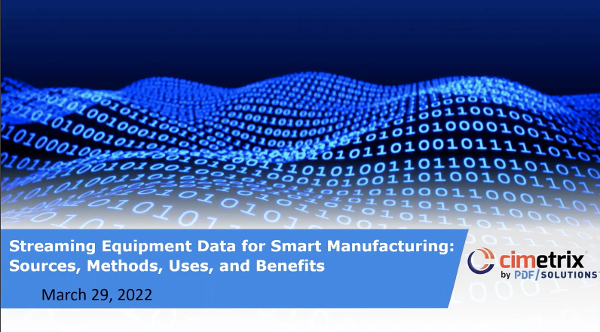 Streaming Equipment Data for Smart Manufacturing: Sources, Methods, Uses, and Benefits
Alan Weber; VP New Product Innovations, Cimetrix Connectivity Group, PDF Solutions
Mike Motherway; Smart Factory Product Owner, PDF Solutions
Two key pillars of a Smart Manufacturing implementation strategy for the semiconductor and electronics industries are 1) rapid reaction to important manufacturing events, and 2) predictive modeling of imminent factory conditions. Both depend on real-time access to manufacturing equipment, which supply most of the data used by applications in these two domains. Moreover, the ability to stream this data from a disparate set of sources into a system infrastructure providing fast, reliable, unfettered access to its eventual consumers has become a fundamental requirement for leading manufacturers.
This webinar provides a practical introduction to these topics for Smart Manufacturing stakeholders in several company contexts, including semiconductor and electronics manufacturers as well as their equipment and software suppliers.
---