Cimetrix HostConnect
Creating host-side applications connecting to GEM equipment
The newly released Cimetrix HostConnect is a software toolkit for rapidly creating host-side applications that connect to GEM (SEMI E30) equipment. It features a layered architecture to support a wide variety of host-side applications including equipment data collection, monitoring, process control, and optimization in a production manufacturing environment as well as equipment-side applications for testing the compliance of GEM implementations.
Cimetrix HostConnect contains four interface layers for interacting with the equipment as shown in the diagram below. The software manages the detailed aspects of messages, timeouts, and transaction for the developer using incoming and outgoing queues, eliminating the need to understand the specifics of SECS message formats and protocols. Although the low-level SECS message interfaces are still available to those who want that level of control.
Cimetrix HostConnect Architecture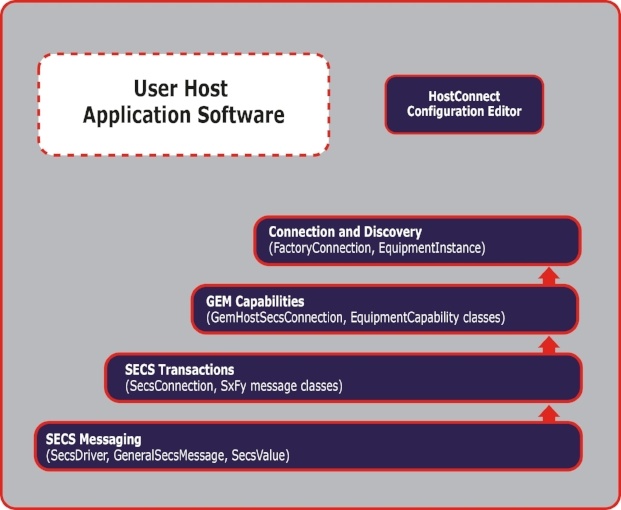 Cimetrix HostConnect also includes an equipment configuration editor which has the ability to automatically discover event, variable and data item format information from the equipment. This simplifies the manual process of configuring the host to define reports, gather data and monitor the equipment.
Cimetrix HostConnect can also be used by equipment OEMs to build sophisticated and robust host-side testing tools for their GEM interfaces. It combines the familiarity and power of .NET with the flexibility of the various abstraction layers to allow custom test scenarios to be easily created and maintained. No special scripting language is required.
The Cimetrix HostConnect tool kit offers:
Multi-layer architecture
Standards-based modules that encapsulate GEM quipment capabilities
High-level configuration utility
Dynamic configurable data types and communications settings
Native .NET programming language design
Management of message timeouts and transactions
Built-in library of SECS-II message classes
Ability to support custom message formats
Cimetrix is available to support your project
When you use a Cimetrix product, our goal is to allow you to control your own destiny. You get our dedicated, passionate support throughout the entire development process. We recommend product training to get your team up to speed quickly. If needed, we also have engineering personnel to work with you on project planning, engineering design and initial deployment. Talk to us. Let us know your project requirements to see if Cimetrix HostConnect is a good solution for you.
Supported SEMI SECS/GEM Standards
E5 SECS-II - SEMI Equipment Communications Standard 2
E30 GEM - Generic Model for Communications and Control
E37 HSMS-II - High-Speed SECS Message Services
E173 - SECS Message Notation (SMN)