One Unified Platform to Run Your Entire Factory

The Cimetrix Sapience® Integration Platform (Sapience) is a smart factory platform to seamlessly connect varying factory equipment within a single event-driven framework.
The Sapience platform provides rapid-deployment tools for factories to mine the treasure trove of data available from shop floor equipment, driving actionable insights for optimal decision-making.
The resulting seamless connectivity allows factory IT systems direct access to factory equipment. Resulting equipment communication, data collection, and process control capabilities establish the foundation for Industry 4.0, Big Data, and Smart Factory initiatives.
Architected for the Industrial Internet of Things
The Sapience platform provides a scalable architecture allowing factories to establish communication with a wide variety of equipment across multiple lines and facilities. The platform provides connectivity to equipment that support industry standard protocols.
The on-premise architected solution provides maximum control and security for factory implementations. The core system is easily installed via packaged installer. A hybrid deployment solution can be installed with components residing in the public cloud. Scalability is achieved by utilizing existing public cloud horizontal scaling techniques.
Smart Factory needs Equipment Connectivity
Single Platform Solution - to Connect All Factory Equipment
The Cimetrix Sapience Platform allows factories to develop applications which directly interact with connected equipment enabling them to implement a multitude of customized solutions. Some examples…
Critical data collection (reporting, analytics, big data)

MES system integration (in-house MES or 3rd party MES)

Traceability data collection (product, material, process)

Recipe Management (upload, download, notify of change)

Process control (SPC, closed-loop-feedback)

Preventive maintenance (machine cycles, alarms, predictive analytics)

Scrap management (mispicks, vision errors, etc)

Equipment utilization (uptime, downtime, cycle time, OEE, E10)

Material management (product control, material consumption, scrap)

Quality tracking (results from AOI, AXI, SPI, test benches)
Overall Equipment Effeciency (OEE) Model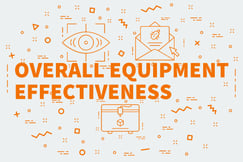 The Sapience OEE Module is an out-of-the-box web-based application to collect, analyze, and display equipment efficiency data. The OEE Module is a key component of the Cimetrix Sapience Integration Platform ecosystem designed to quickly provide actionable data with minimal configuration. Upon establishing an equipment connection, the OEE Module automatically begins collecting real-time equipment utilization and alarm data.