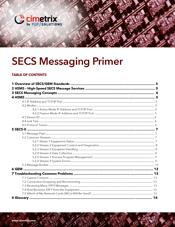 SECS Messaging Primer
The GEM or SECS/GEM standard defines messages, state machines and scenarios to enable factory software to control and monitor manufacturing equipment. Many equipment in semiconductor (front end and back end), surface mount technology (PCB-A), electronics assembly, photovoltaic, flat panel display and other manufacturing industries worldwide provide a GEM interface on the manufacturing equipment so that the factory host software can communicate with the machine for monitoring and/or controlling purposes. Because the GEM standard was written with very few semiconductor-specific features, it can be applied to virtually any manufacturing equipment in any industry.
Find out more by selecting from the material available or schedule a meeting with one of our representatives.