ECCE Plus
The Cimetrix EDA Equipment Client Connection Emulator
ECCE™ Plus, the Cimetrix Equipment Client Connection Emulator, is the latest version of a fully functional Equipment Data Acquisition (EDA) client that OEMs and fabs can use to confirm EDA/Interface A implementations. As an EDA client, ECCE Plus can communicate with equipment that complies with the SEMI Interface A standards E125, E132 and E134. ECCE Plus supports both EDA Freeze Version I (1105) and Freeze Version II (0710).
The diagram below shows how ECCE Plus is used as an EDA client.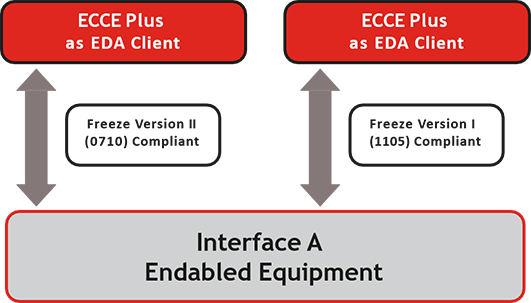 Originally developed in cooperation with SEMATECH and offered for free to the industry for over eight years, ECCE Plus is now a fully supported Cimetrix software product available for purchase. ECCE Plus is also included with the purchase of certain Cimetrix products. Previous versions of ECCE, known as ECCE Version 1 and Version 2, are no longer available from Cimetrix. If you would like more information about ECCE Plus, please contact Cimetrix sales.
System Requirements
.NET 3.5 SP1
Note this Microsoft supplied software package may require installation on some platforms.
Hard Drive Space: 100 MB
2GB RAM
2GHz Dual Core CPU
Protocols: TCP/IP