EDA/Interface A Client Application and Equipment Connection Emulator
Cimetrix ECCE Plus
ECCE™ Plus, the Cimetrix Equipment Client Connection Emulator, is the latest version of a fully functional Equipment Data Acquisition (EDA) reference client with an easy-to-use graphical user interface that OEMs and fabs can use to test the connection to an EDA/Interface A-enabled equipment, and verify the format and behavior of all the messages defined by the SEMI EDA standards (E125, E132, and E134). ECCE Plus supports both EDA Freeze Version I (1105) and Freeze Version II (0710).
Other features of ECCE Plus enable users to browse the equipment metadata model, query individual parameter values, define and activate Data Collection Plans (DCPs), view the contents of the resulting data collection reports in raw, tabular, or strip chart form, and store that information in .csv files for subsequent analysis. It also provides diagnostic functions and full SOAP logging of all message traffic to help diagnose potential problems in the equipment's implementation of the standards.
The diagram below shows how ECCE Plus is used as an EDA client.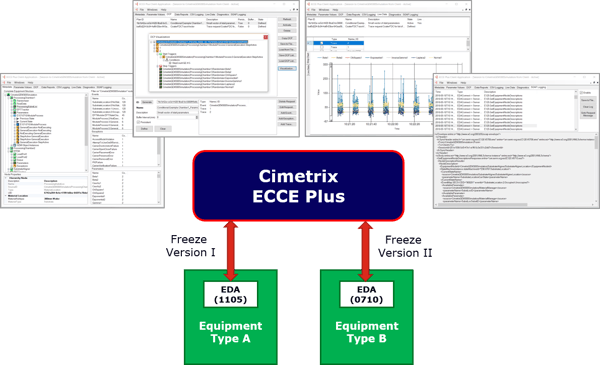 System Requirements
.NET 3.5 SP1
Note this Microsoft supplied software package may require installation on some platforms.
Hard Drive Space: 100 MB
2GB RAM
2GHz Dual Core CPU
Protocols: TCP/IP