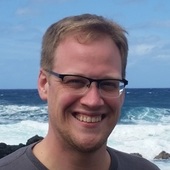 There are good jobs, and then there are great jobs. Before joining Cimetrix, I had been happily working for nearly nine years at a decent-sized company, and I had no plans to leave any time soon. But when an opportunity to work at Cimetrix presented itself, I was intrigued by the possibilities of working for a smaller company where my contributions would have a large impact. After looking into Cimetrix a bit more, I discovered a place focused on values, transparency, productivity and a fun company culture. In the end, it wasn't a hard decision to leave my good job and trade up for an even better one at Cimetrix.
One of the things I appreciate most about Cimetrix is their commitment to transparency. Upper management wants everyone to be involved in the vision and direction of the company. To that end, we have monthly meetings where the current state of the company is made known, as well as the outlook for the future. It seems that every year is a new banner year at Cimetrix. This is a great time to be in the semiconductor industry.
In my time at Cimetrix, I've also had the opportunity to work with some great people. My co-workers have been extremely knowledgeable and willing to help the newer employees without hesitation. They are dedicated to their jobs and you can see the passion they have for their projects.
The company culture is another aspect that drew me to Cimetrix. In my time here, I've seen costume contests and soup cook-offs. I've played ping pong with managers, and video games with co-workers at lunch. There are endless excuses to eat, and an endless of supply of soft drinks to wash down all the food. Each year, the company hosts an annual party for employees to treat their families to a day of fun. The benefits are great, and don't forget about the ability to work from home 3 days a week.
All told, if you're looking for a great place to work with a fun company culture, a focus on values and high employee involvement, then a job at Cimetrix is an opportunity you should not pass up.
To see all Cimetrix career opportunities, check out our Employment page!