Yufeng Huang of Cimetrix talks about our China Office Opening. Read now in Chinese or English.
美国矽美科股份有限公司上海代表处成立于2017年8月,地址位于称为中国硅谷的上海张江高科技园区。公司总部(矽美科股份有限公司)创建于1987年,地址位于美国犹他州盐湖城。矽美科公司是一家为半导体行业、SMT行业、PCB行业、光伏行业、LED行业及相关行业的设备制造商和生产工厂提供产品和服务的软件公司。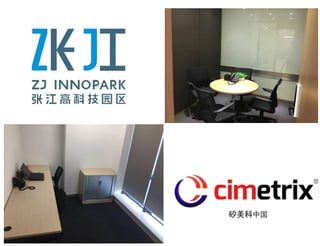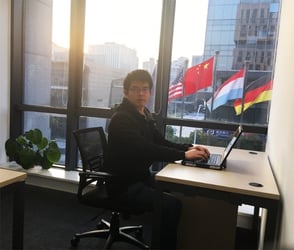 矽美科公司有着非常良好的客户评价,公司不仅将自己视为客户的重要供应商,更加将自己视为客户值得信赖的合作伙伴。我们坚信有能力为客户提供全球最先进的基于SEMI标准的软件解决方案。
矽美科上海代表处为中国、台湾等亚太地区客户提供售前产品咨询,客户培训,售后技术支持服务。我很荣幸在今年8月份加入到矽美科上海代表处,在过去的几个月内我们不断收到老客户给予的好评和新客户的合作意向。感谢新老客户对公司的支持,我们将一如既往的为客户提供最优质的、高效的服务,希望我们的产品和服务能让您满足,并为您带来巨大的帮助。
美国矽美科股份有限公司上海代表处
地址:上海市浦东新区盛夏路399弄1号(A座)3楼328室3069单元 (邮政编码201210)
技术联系:黄玉峰
电话:+86-21-8022-0935

销售联系:Michael Lee
电话:+886-926395649
---
American Cimetrix Incorporated Shanghai Representative Office was established in August 2017. It is located in ZhangJiang High-Tech Park, which is also known as China's Silicon Valley. The headquarters of Cimetrix, Inc, founded in 1987, is located in Salt Lake City, Utah, USA. Cimetrix is a software company that provides software products and services to OEMs and Fabs in the semiconductor, SMT, PCB, photovoltaic, LED and related industries.
Enjoying excellent customer reputation, Cimetrix considers itself more as customer's trusted partner than customer's supplier. We firmly believe that we have the ability to provide customers with the world's most advanced SEMI-based software solutions.
Cimetrix Shanghai Representative Office provides pre-sales consulting, customer training, after-sales technical support services to mainland China, Taiwan and other Asia areas. I am greatly honored to join Cimetrix Shanghai Representative Office in August 2017. In the past few months, we have continuously received favorable comments from existing customers and cooperation intentions from potential customers. Thanks for their trust and support of the company, we will, as always, provide our clients with the best and most efficient services. We believe that our products and services will meet customer satisfaction and greatly enhance your product quality.
American Cimetrix Incorporated Shanghai Representative Office
Address: Unit 3069, Room 328, Floor 3, No. 1 (Block A), Lane 399, Shengxia Road, Pudong New Area, Shanghai (Post Code: 201210)
Technical Contact: Yufeng Huang
Telephone: +86-21-8022-0935
Sales Contact: Michael Lee
Telephone: +886-926395649