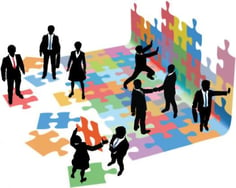 Making the transition from college to a career is an exciting challenge for new grads, and is something I've become very familiar with since finishing my degree last December. After graduation, I spent months combing through job postings online and checking out the careers pages for all the growing tech startups along the Wasatch front. While I was anxious to get working, I didn't want to just take the first offer that came my way. It was important to me that I find a position at a company that was more than just a way to pay bills – I wanted to find a career that I really enjoyed, working alongside great coworkers at a company that truly cares about its employees. After all, that's what I'd gone to college for, right? Having a company culture that fostered this kind of working environment became one of my main requirements when I interviewed and visited job prospects.
Eventually the job hunt led me to Cimetrix. The listing for the position immediately grabbed my attention since it matched up well to my experience and education. After sending in my resume and a brief cover letter, I began a multi-part interview process that really impressed me and showed off the great culture that Cimetrix has cultivated. I met multiple times with different team members from all parts of the company – from Sales and Marketing to Product Development and even upper management. I was struck by how candid and open the process was. After every interview, I was asked about my interest level and if I was still seriously considering the opportunity. There was an emphasis on the interview being a two-way street, I really appreciated being able to ask plenty of questions and make sure that Cimetrix was a good fit for me.
After the interview process was over, I received an offer. I knew that Cimetrix was the right place to start my career. I've been with the company for 2 months now and my excitement for the job hasn't gone away. Management is friendly and approachable so I always feel like I can walk in and get a direct answer to any question I might have. The phrase "Open Door Policy" is real here. There's no micromanaging and I get great constructive feedback for every project work on. My coworkers are responsive and extremely capable at what they do. Even though we have employees all over the globe, everyone knows each other by name and there's a real feeling of community. I especially enjoy our "cake days" where we celebrate employee birthdays and learn a little bit about what our coworkers are up to outside the office.
One of the things I like most about the Cimetrix culture is the push to drive out 'entropy' (i.e., disorder and disintegration), a concept that comes from Lex Sisney's book Organizational Physics. The basic idea is that systems fall apart over time and it's imperative to reduce entropy that comes from internal friction, inefficient processes, or poor management of available resources. One way that I've been involved in driving out entropy is by using working with our CRM to streamline our sales and marketing processes. I've also helped plan and implement ways to better manage sales collateral and shared documents among our global sales team. Even in the small time I've been at Cimetrix, this 'entropy-reduction' push has helped me to change the way I work with my coworkers for the better.
These are just a few of examples of the kind of culture that has made working at Cimetrix a rewarding experience. I feel lucky to be part of an organization that aligns so well with my own values and working style. I enjoy being able to say I really love my job and look forward to coming into work each day. A big thanks to everyone here at Cimetrix for making this company a such great place to work.