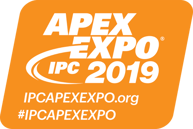 IPC Apex Expo is one of the largest gathering of professionals from the printed circuit board and electronics manufacturing industry (EMS). Attendees and exhibitors come from around the world to participate in the expo, the technical conferences and Standards Development meetings. This is the third year in a row that Cimetrix has exhibited at the IPC Apex conference.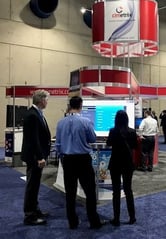 Cimetrix features the latest in Smart Factory and Equipment Connectivity technology. For the show this year, we chose to upgrade our booth space, allowing us to have more meeting room within the booth as well as several prominent demo stations in each corner. We also featured a popular Virtual Reality station in our booth. We brought a great team of ten to the show this year to staff the booth, give demo's and greet the many attendees who stopped by throughout the 3 day expo.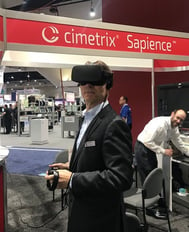 We chose to participate in the popular Passport to Prizes game for the second year in a row. This sponsorship is a great tool to get the Cimetrix name out in the industry. It also brings in many attendees to our booth for some great conversations about our products and services.
We also had to opportunity for the Cimetrix Vice-President and General Manager of Smart Factory Business, Ranjan Chatterjee, to be interviewed by SCOOP TV both one-on-one and as part of a larger panel discussion. You can view Ranjan's one-on-one interview in the Cimetrix Resource Center.
To learn more about our products or services, you can schedule a meeting any time.