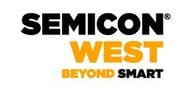 SEMICON West is almost here and we're excited to once again be participating this year as both an exhibitor and as a sponsor of the Smart Manufacturing Pavilion! Visit us any time at our booth 1644 in the South Hall, at our kiosk (#1364) in the Smart Manufacturing Pavilion, or at the Meet the Experts Theater which will feature Cimetrix speakers on Tuesday and Wednesday.
SEMICON West will once again be held in the Moscone Center in San Francisco, CA, USA from July 9-11. The theme this year is "Insight, Innovations & Intelligence: Our industry – and the world – is moving beyond smart." We couldn't be more excited about the momentum of the semiconductor industry. As Industry 4.0 and the demand for Smart Manufacturing solutions have become more prevalent, we've seen our market expand beyond the equipment manufacturers to encompass all phases of the electronics manufacturing process and corresponding elements of the supply chain. To achieve a smart, connected factory, you must first have equipment that can communicate effectively, which is where Cimetrix has always excelled. Our well-known and award-winning products enable every semiconductor manufacturer in the world to connect their equipment to the factory information and control systems. SEMICON West has always been an important event for meeting with current clients, making new contacts, collaborating in the SEMI Standards community, and developing relationships with thought leaders across the manufacturing spectrum.

The rapid and continuous growth of manufacturing data is now driving demand for new analysis technologies that can further leverage its value. The Smart Manufacturing Pavilion is a great place to see some of the breakthroughs that are creating smarter processes and spurring innovation across the industry. The pavilion once again includes a Meet the Experts Theater, and Cimetrix has two opportunities to address the audience. Brian Rubow, Director of Solutions Engineering, will speak on "Getting the Most from the GEM Standard" on Tuesday July 9 from 1:30 – 2:00 pm. Alan Weber, VP of New Product Innovation, will talk about "Addressing the Connectivity Challenges of Disparate Data Sources in Smart Manufacturing" on Wednesday July 10 from 3-3:30 pm.
The Smart Manufacturing Pavilion and its Meet the Experts Theater are in the South Hall and we hope to see you there! Or, as always, you can visit our booth 1644 any time during the show.