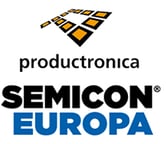 In less than a week, two of the industry's largest European shows will begin. The 2019 productronica show is co-located once again with SEMICON Europa in Munich, Germany from November 12-15 at the Messe München expo center. For the first time ever, Cimetrix will be exhibiting at both shows, and we welcome you to join us!
Productronica is the world's leading trade fair for electronics development and production. Cimetrix will demonstrate our Smart Factory products, including Sapience, to show how we can help with your Smart Factory needs. Sapience is a simple solution for connecting multiple machines in a manufacturing line to a factory host system. It offers an economical and scalable solution that can support machines using many communications protocols, including SEMI SMT-ELS, the latest machine-to-machine (M2M) connectivity standard. Please be sure to visit us at our productronica booth #451 in Hall A3.
Over in Hall B1, the SEMICON Europa show will be going strong. SEMICON Europa attracts an audience from every segment of the European microelectronics industries including semiconductors, PV, HB-LED, MEMS, and other adjacent markets. The combination of SEMICON with productronica is the largest single exhibition for electronics manufacturing in all of Europe. We are excited to once again participate in this event to show how our products can fulfill your Smart Equipment needs.

Equipment manufacturers who want to embrace Industry 4.0 and all its benefits must first put the right digital building blocks in place. The foundation of this digital transformation is connectivity, and that's where Cimetrix can help. Whether you are an equipment manufacturer or an electronics factory, we can address your connectivity requirements.
We invite you to drop by either of our booths at productronica or SEMICON Europa, or you can make an appointment ahead of time by clicking the button below. We look forward to seeing you there!