Read the Post-show report of the SEMICON China 2019 show today. Read it now in Chinese or below in English.

3月20日至22日在上海国际博览中心举行的SEMICON China 2019,不仅是全球规模最大的SEMICON展会,还与Productronica China, Electronica China和FPD China同时举办,集高科技领域于一体,令人惊叹。因此,SEMICON中国吸引了世界领先的技术公司,这些公司设计、开发、制造和供应驱动着当今最复杂的消费和商业产品的微电子产品。这个庞大的群体为这个行业创造了巨大的能量和令人兴奋的事物!这是Cimetrix作为独立参展商参加展会的第一年,整个展会期间我们的展位都很忙碌! 我们的团队成员来自全球各地,包括中国大陆的黄玉峰和刘波(Clare Liu), 来自台湾的Samson Wang, 来自韩国的Hwal Song和来自美国的Bob Reback, Dave Faulkner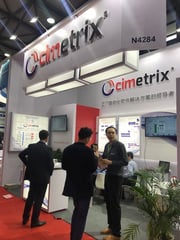 和Kim Daich。以我们传统的SECE/GEM和EDA产品为特色,我们的展位展示了各种设备的连接和控制解决方案。
总的来说,SEMICON China对Cimetrix来说是一个巨大的成功,我们对中国半导体市场的机遇有了第一手的了解。我们的客户也对我们的产品感到满意。展会已经结束,我们还有很多工作要做,去跟进的新需求和机会。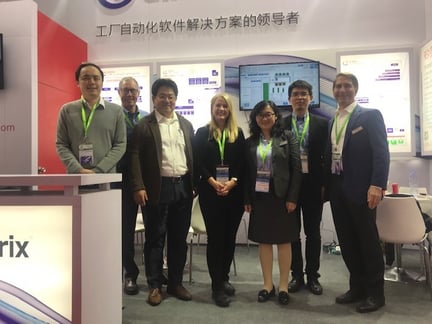 要了解更多关于Cimetrix产品和服务的信息,您可以随时安排会议。
---

SEMICON China 2019, held on March 20-22 at Shanghai International Expo Center, is not only the largest SEMICON show in the world, it was co-located with FPD China, Productronica China and Electronica China… an awe-inspiring collection of high technology at one venue. As such, SEMICON China attracts the world's leading technology companies who design, develop, manufacture, and supply the microelectronics that drive today's most sophisticated consumer and commercial products. The huge crowds created a tremendous amount of energy and excitement for the industry!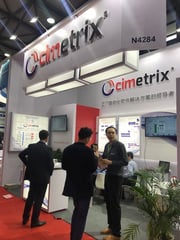 This the first year Cimetrix participated as a stand-alone exhibitor, and we stayed very busy at our booth throughout the event! Our team consisted of a global group with Yufeng Huang and Clare Liu from China, Samson Wang of Taiwan, Hwal Song from Korea and Bob Reback, Dave Faulkner and Kim Daich from the U.S. And, featuring our traditional line of GEM (SECS/GEM) and EDA products, we had demos available in the booth for our full range of equipment connectivity and control solutions.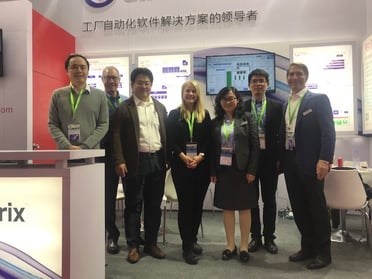 Overall, SEMICON China was a great success for Cimetrix, and we came away with first-hand knowledge of the scope of opportunity in the China semiconductor market. Our customers are happy and there is a lot of work to do now that the show is over to follow up with new leads and opportunities.
To learn more about Cimetrix products and services, you can schedule a meeting any time.