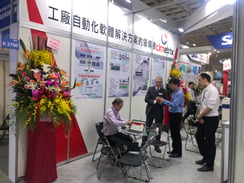 SEMICON Taiwan was held September 5-7, 2018 at the Taipei Nangang Exhibition Center. During that same time (Friday September 7), the e-Manufacturing & Design Collaboration Symposium (eMDC) alsotook place in Hsinchu, Taiwan. Cimetrix exhibited in the Smart Manufacturing Pavilion and had a strong presence at both shows, exhibiting and speaking at SEMICON, and speaking and sponsoring a tea break at eMDC.
Cimetrix SEMICON attendees included Dave Faulkner (VP Sales and Marketing), Michael Lee (Country Manager Taiwan), Yufeng Huang (Senior Software Engineer), Alan Weber (VP New Product Innovations), Samson Wang (Solutions Engineer) and Kimberly Daich (Marketing Manager); Hwal Song (Country Manager Korea) was also able to attend for one day. We were joined by several partners and distributors as well. The Cimetrix booth was busy throughout the show, and provided a comfortable and convenient setting for the many scheduled and walk-in meetings that took place.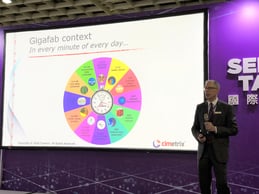 In addition to the exhibitions, SEMICON Taiwan also sponsored many forums for expert speakers throughout the show. Dave Faulkner spoke on Friday morning on the topic of "Making Smart Manufacturing Work with EDA: The Stakeholder-driven requirements Development Process". On that same day, Alan Weber traveled to Hsinchu for eMDC and spoke on a similar topic, "Smart Manufacturing Stakeholders and Their Requirements." Smart Manufacturing is a prevailing topic across the industry and was featured at SEMICON Taiwan, as they continue the Smart Manufacturing Journey that began with SEMICON West.
Our office in Taiwan has expanded recently with the addition of a new Solutions Engineer, and we are excited as new opportunities open up throughout the region.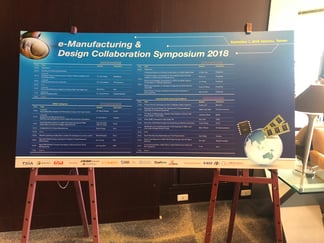 If you would like to learn more about Smart Manufacturing, our work in Taiwan or Cimetrix, please feel free to ask an expert any time.