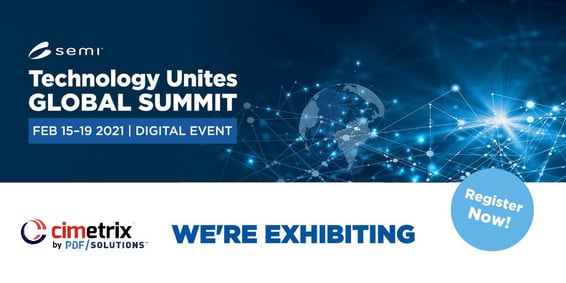 SEMI Europa is sponsoring a new event – Technologies Unite Global Summit – and we are excited to announce that Cimetrix Incorporated will have a virtual booth at this online event on 15-19 February, 2021.
Technologies Unite Global Summit brings together the global microelectronics supply chain, manufacturers, and the end users for this digital experience that spotlights digital transformation and microelectronics industry innovation and growth. This summit will feature eight forums presenting the latest innovations, as well as seven pavilions from around the world where exhibitors and attendees can connect with the global SEMI community.
After a year of cancelled and postponed in-person events, we are happy to participate in these virtual events that gives all of a us a chance to re-connect with our global communities. Be sure to register for and attend this brand new event and be sure to stop by our booth!
Thomas Simon, the General Manager of our Europe office will be available during booth hours to host discussions about all of our products, and particularly our Cimetrix Sapience® Smart Factory Platform.
We hope to see you there. You can contact our team any time to schedule a demo or make an appointment by clicking the button below.