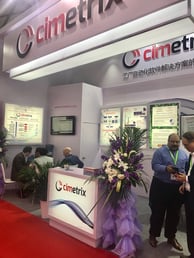 SEMICON China was held from March 14-16, 2018 in Shanghai at the Shanghai New International Expo Centre. Simultaneously co-located at this huge complex were Productronica China and Laser World of Photonics China. All three shows were very busy this year, and it is clear the electronics manufacturing industry in China is booming.
Cimetrix attendees included Dave Faulkner (VP Sales and Marketing), Ranjan Chatterjee (VP Smart Factory Business Unit), Michael Lee (Country Manager Taiwan), Yufeng Huang (Senior Software Engineer), Alan Weber (VP New Product Innovations), and Kimberly Daich (Marketing Manager); Hwal Song (Country Manager Korea) was also able to attend for one day. The Cimetrix booth was busy throughout the show, and provided a comfortable and convenient setting for the many scheduled and walk-in meetings that took place.
Cimetrix partners Facet and Flagship also attended the show, and participated in several customer/prospect discussions. In conjunction with our partner Facet, Cimetrix software products are now used in more than 25 production factories within the China market segment. Moreover, the relationships we have established throughout the semiconductor and electronics markets are strengthening our global presence and enable Cimetrix to provide local support to current and potential clients. The most recent example is our Shanghai office, opened in 2017.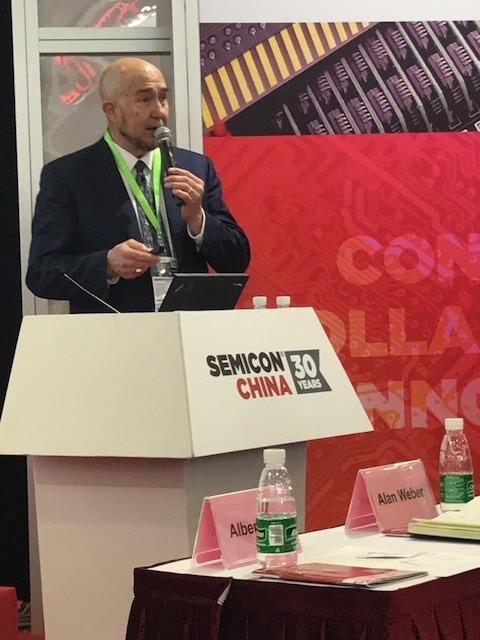 In addition to the exhibitions, SEMICON China sponsored many forums for expert speakers throughout the show. One of these included the New Technology Release Forum where our own Alan Weber was selected as a speaker. His topic "Integrated Equipment Data Collection and Management for Smart Manufacturing" was well received by those in attendance. Smart Manufacturing has been a topic of keen interest at all SEMICONs over the past 18 months, and China was no exception; a separate forum dedicated to Smart Manufacturing drew a standing-room-only crowd to hear a broad range of speakers across the technology spectrum.
We are currently expanding our Shanghai office in response to the exciting growth opportunities we see for our industry in China, and look forward to many years of collaborative work in this region.