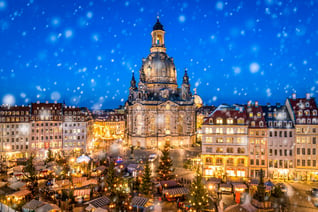 Near the end of January for almost two decades, the companies that form the Automation Network Dresden (AND) have hosted a gathering of semiconductor automation professionals in the picturesque setting of Dresden, Germany. The chill of winter during this event has always been in stark contrast to the warmth of the reception the speakers and participants enjoy at this event. The big question this year was "how could the organizers possibly maintain this tradition amid the COVID-19 pandemic and its travel restrictions?"
Automation people being a creative bunch, they responded by offering a series of free, half-day "digital events" spread across the first four months of the year, and each hosted by one of the AND member companies: SYSTEMA, Fabmatics, XENON, and Kontron AIS. The first two sessions are now in the record books, and as a participant in both, I can attest that no momentum or value has been lost. The only exception is the lack of the forum's famous evening event, which will undoubtedly return next year when the virus is behind us.
The first session of the year was hosted by SYSTEMA on January 28 with the theme of Datafication and Automation: The new normal for semiconductor manufacturing. I was privileged to among the invited speakers, and shared the agenda with Manfred Austen of SYSTEMA (always a hard act to follow!), Jean-Marc Philippe of ST/Micro Singapore, Axel Wogawa of SYSTEMA, and Klaus Kleilein of Fabmatics.
In this context, I chose the topic of semiconductor backend automation, and you can download my presentation "Wafer Fab Best Practices for Backend Automation". Key takeaways from this presentation include the industry drivers for higher levels of backend automation, the unique challenges this poses when compared to wafer fab automation (see the figure highlighting multiple material transformations below), the role that industry standards in many categories will play in this process, and last but not least, the importance of defining explicit integration message sequences between all the equipment and the factory systems that bring them together into fully automated operations. This latter insight was one of the key enablers for the wafer fab transition from 200mm to 300mm, and the concept equally applies in the backend.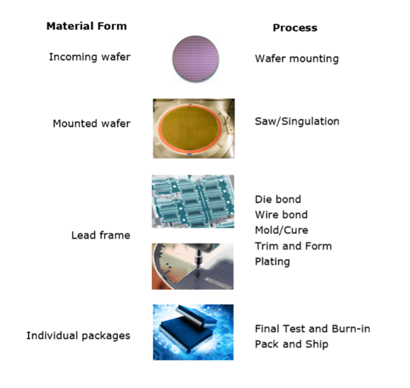 The second event in the series was hosted by Fabmatics on February 25, 2021, with the enticing theme of Forever Young: Automation Makeover Rejuvenates Golden Age Fabs. It featured speakers from Bosch, Nexperia, Cohu, and SYSTEMA.
The next event will be hosted by Xenon on March 25, 2021 with the theme Digitalization Meets Mechanical Engineering, and the final event hosted by Kontron AIS on April 29, 2021 (theme still TBD – stay tuned). For more information about this digital event series, visit the Automation Network Dresden website.
For help in crafting and executing your own backend automation strategy, or any other topic related to advanced manufacturing connectivity and control, please contact us by clicking the button below.