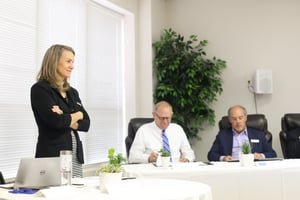 It was nice to see so many familiar faces this past Friday, August 17, 2018 at our Annual Shareholders Meeting. The meeting was held at our headquarters in Salt Lake City, UT with over fifty-five percent of Cimetrix shareholders represented at the meeting. There was one proposal submitted by management to re-elect all five Directors, which was approved by shareholders with over 99% of the votes cast in favor of the proposal. We are grateful to have an incredibly talented and experienced Board of Directors who take their responsibility to represent the interests of shareholders very seriously. We are thankful our shareholders recognize and appreciate the value of our independent directors.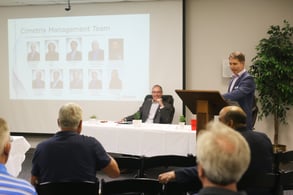 After the formal shareholder meeting was adjourned, Dave Faulkner, Executive Vice President of Sales and Marketing, and Ranjan Chatterjee, Vice President and General Manager, Smart Factory Business Unit, gave presentations on the exciting growth initiatives underway at Cimetrix. Following their presentation, Bob Reback, President and CEO, provided his perspective on the state-of-the-company and outlook going forward. During these presentations and ensuing discussion, management shared that Cimetrix is seeing the results of its growth initiatives, as revenues for the first six months of 2018 were up over 24% year-over-year. In addition, during a discussion on the benefits of going private (which Cimetrix did at the end of 2014), management reported the benefits of going private exceeded its expectations and contributed to growing revenues at a CAGR over 18%, compared to the 6% CAGR as a public company from 2002 through 2013. Lastly, management reported that its balance sheet continues to get stronger, even as the company is able to make significant investments in its growth initiatives. The company continues to operate profitability on a quarterly basis, the company has no debt, and the company now has over $3M of cash.
We continue to be thankful for the support and enthusiasm demonstrated by our shareholders, the hard work of all our employees and the wisdom and guidance of our Board of Directors. Thank you for all your contributions to Cimetrix.