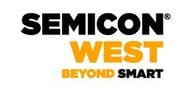 SEMICON West 2019 has come and gone! The annual trade show and technical conference was held this year at Moscone Center in San Francisco and turned out to be a very busy time for the Cimetrix team. The trade show lasted three days and filled two halls, including the newly renovated South Hall. We had many meetings with current clients, met with new potential clients and even made a few new friends along the way.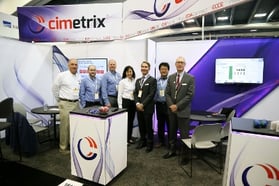 This year has been an interesting one, with the semiconductor capital equipment industry seeing a downturn. In January at ISS, the consensus was the trough for semiconductor capital equipment makers would be Q2 with growth returning in Q3 and Q4. Now, the consensus is the recovery in the chip memory market and manufacturing expansion may not happen until mid-2020. However, people also say the visibility is only for the next 3-6 months, so this could change. Many of our customers are affected by this downturn – the severity varying by their customer base and territory. Customers that are focused solely on semiconductor 300mm wafer fabs with a strong exposure to memory, have been hit the hardest with declines in revenue up to 50% from 2018 levels. Customers that have more diverse product lines and sell to semiconductor back-end or electronics markets are doing much better. While this downturn is affecting our customers to varying degrees, we had many executive meetings with virtually all of them expressing continued satisfaction and appreciation regarding the high quality of our products and technical support.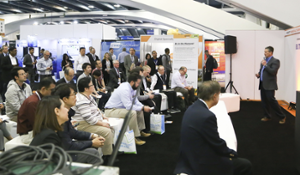 We also had two speakers at the Meet-the-Experts tech stage within the Smart Manufacturing Pavilion. Brian Rubow, Director of Solutions Engineering, spoke on how to get the most out of the GEM standard, including following what the standard says and fixing implementations using sound software practices. You can view his presentation here. Alan Weber, VP of New Product Innovations also spoke on Addressing Connectivity Challenges of Disparate Data Sources in Smart Manufacturing, addressing the road to the smart, digital and connected factory. You can view his presentation here.
Cimetrix continues to strengthen our relationship with SEMI by our global leadership and participation in SEMI standards meetings as well as our sponsorship of the Smart Manufacturing Pavilion. We sponsored a kiosk in the Pavilion where we connected our new Sapience platform for Smart Manufacturing to a BTU reflow oven, which generated quite a bit of excitement.
SEMI Standards meetings continue to be a priority for Cimetrix. We are well represented at the standards meetings by chairing/co-chairing various committees and attending/participating in others. The following are some of the areas of significance.
The DDA task force continues to develop EDA Freeze 3 standards with adoption of cutting edge gRPC technology to improve performance.
The Fab & Equipment Computer and Device Security (CDS) Task Force received approval for two SNARFs (Standards New Activity Report Form) - "SNARF: Specification for Application Whitelisting" and "SNARF: Malware Free Equipment Integration". The SNARFs were created by the CDS task force and approved by the Information and Controls global technical committee which Brian co-chairs.
The North American Information & Control Committee at SEMI established a new task force Advanced Backend Factory Integration (ABFI) to define and update standards to meet the needs of the semiconductor backend industry. Brian Rubow from Cimetrix, Dave Huntley from PDF Solutions are two of the task force co-leaders.
During the SEMICON West show, an article was published, written by Cimetrix VP and GM, Smart Factory Solutions Ranjan Chatterjee and Dan Gamota, VP, Manufacturing technology and Innovation for Jabil. The article called "Smart Manufacturing Roadmap: Data Flow Considerations for the Electronics Manufacturing Industry" can be found here. This article identifies technology gaps and needs, and offers recommendations to guide the electronics manufacturing industry in realizing the benefits of smart manufacturing and is sponsored by iNEMI. Mr. Chatterjee and Mr. Gamota are co-chairs of the new smart manufacturing chapter of iNEMI.
The Cimetrix team was excited to once again be an exhibitor and sponsor of the SEMICON West show. This is always a great show and we were very pleased to attend once again. We are already looking forward to SEMICON West 2020!
To view the presentations from SEMICON West, and many more, click on the button below.