The semiconductor industry may have seen a pause during the current growth cycle. For the first time in almost a year, the North America-based manufacturers of semiconductor equipment posted a book-to-bill ratio of less than parity. According to SEMI, there were $1.17 billion in orders worldwide in September 2014 (on a three-month average basis) and a book-to-bill ratio of 0.94. A book-to-bill of 0.94 means that $94 worth of orders were received for every $100 of product billed for the month.
The bookings figure of $1.17 billion is 12.9% below the final August 2014 level of $1.35 billion, and is 18.1% higher than the September 2013 order level of $992.8 million.
The three-month average of worldwide billings in September 2014 was $1.25 billion, which is 3.3% lower than in August, but is 22.5 % higher than the September 2013 billings level of $1.02 billion.
According to Denny McGuirk, president and CEO of SEMI "While order activity moderated, equipment spending this year is expected to be robust and remain on pace for double-digit year-over-year growth."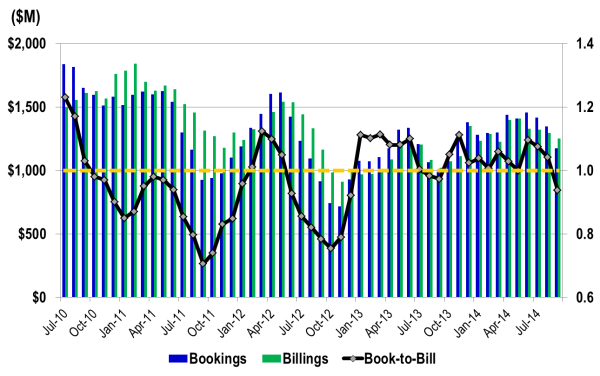 To read the complete report, visit http://semi.org/en/node/51796.