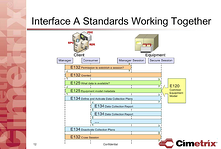 Industry organizations, such as SEMI and ISMI, have been touting the benefits of the Interface A, also known as EDA, standards for years. This year, SEMI approved an important revision to these standards to incorporate many of the lessons learned from early implementations. In addition, SEMATECH member companies (which make up 50 percent of the worldwide chip market) wanted ISMI to focus on a smaller number of projects with short-term benefits for 2009. Interface A (EDA) is on this short list.
Want to learn more?
Cimetrix is hosting a FREE webinar outlining the features and benefits of the Interface A standards. The material will be presented by Doug Rust, Director of Quality Customer Support and co-chair of the SEMI North America GEM300 Task Force.
FREE WEBINAR: Interface A Features & Benefits
Date: Thursday, November 12, 2009
Time: 8:00 am MST/ 7:00 am PST/ 10:00 am EST/ 3:00 pm GMT
Duration: 1 hour
Learn from Cimetrix's experienced engineering staff just what the
Interface A standards
are and how you can benefit from better quality and higher quantity data.
The key features & benefits of Interface A
Data & reporting features available through Interface A
The role of Interface A in manufacturing