by Peggy Faulkner,
Assistant Controller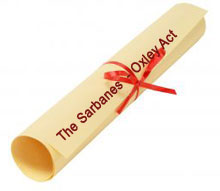 When I confided to a long-time friend with whom I used to work in the financial arena at General Electric that I was thinking of returning to work after 20 years of raising a family, and that I would be doing Sarbanes-Oxley (SOX) compliance work for Cimetrix, she gasped, and blurted, "I am SO sorry!" I was pretty sure her dismay was not an indictment of me returning to work, nor to Cimetrix—it was all about SOX.
When SOX was federally mandated in 2002, as a financial regulatory response to the Enron and Worldcom (and others) scandals, the intent was to soothe panicked investors and restore confidence that our public companies operate under sufficient financial control, oversight, and transparency. Revenue level or company size matter not—all public companies must comply, and compliance places a disproportionately heavier cost burden on small companies such as Cimetrix. Annual auditing must be performed by an independent, registered public accounting firm, and an extra layer of control in the form of reporting and certification is included in all SEC filings by financial management. Transparency to financial reports is now greater, and penalties for financial fraud or misrepresentation are harsh.
In an economic downturn, such as we are now experiencing, the cost of compliance becomes even more burdensome. Nonetheless, Cimetrix is fully compliant with all SOX regulations, and has been for some time now, due to the diligence of the Finance team. Long before I joined the company, measures were taken to reorganize, analyze, report, and verify financial data at a SOX-mandated level.
Currently, cross-training and report collaboration within the department ensure an additional level of review. Our goal this year is to become paperless—in keeping with environmental concerns, and our connection to the PV industry, perhaps?
Eighteen months after talking with my old friend, when she asks how things are going, I smile and say, "Piece of cake!"
Now, if I could just win the company Soup Cook-off!!