Executive Vice President, Sales and Marketing, Cimetrix
SEMICON Japan 2012 was a great experience, and it was amazing to see the excitement and interest in new developments as the industry prepares for growth in 2013. We were able to showcase Cimetrix products at the booths of Meiden and Rorze, our distributors in Japan. We also displayed CIMControlFramework in the MKS Instruments booth.


Meiden and Rorze demonstrated CIMPortal 2 for the many OEMs we have in Japan currently using CIMPortal 1.x. CIMPortal 2 provides the tools for equipment companies to comply with the SEMI E164 standard when they are implementing an EDA/Interface A connection. The E164 standard, approved by SEMI this year, was developed so that companies using EDA/Interface A connections can generate a more consistent and high-quality definition of their equipment's model, as represented in the metadata file. The CIMPortal 2 toolkit includes many features that reduce development time and effort, including a drag-and-drop equipment model builder and compliance checker.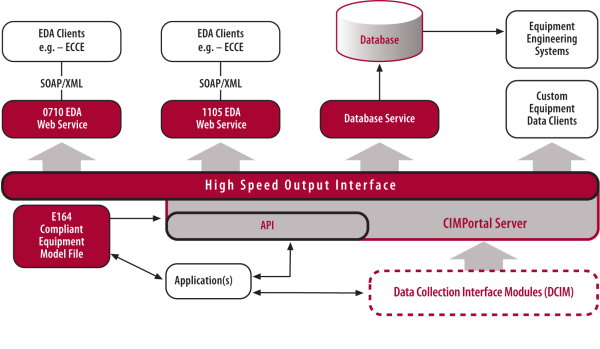 We also presented and demonstrated the Wait Time Waste (WTW) and Fingerprinting projects we are developing in collaboration with ISMI. Due to an emphasis on productivity improvement demands, many semiconductor fabs are very interested in hearing about how they can reduce costs using the WTW metrics and methods in development. Fabs are also interested in fingerprinting – also known as equipment health monitoring – in order to reduce the time to repair equipment and avoid downtime. Alan Weber, Director at Cimetrix, taped a presentation and demonstration of fingerprinting that was shown in the Meiden and Rorze booths.
We also highlighted our CIMControlFramework equipment software framework at the Meiden, Rorze, and MKS Instruments booth. OEMs are looking for an equipment control software solution they can use for high-volume applications, and they like the concept of being able to manage the development in-house. By using a flexible, extensible, configurable framework, OEMs can implement custom extensions for new customers and design the next generation of system internally, allowing them to maintain control of their own development process. Rorze now offers not only CIMControlFramework as a stand-alone product, but also packaged with robot hardware including EFEMs and Vacuum Platforms.
Kerry Iwamoto, the Managing Director of Cimetrix Japan K.K., and I presented at the SEMI Productivity Standards Workshop, which focused on Wait Time Waste. This workshop, which was one of the better-attended sessions, presented new proposed standards development activities to improve manufacturing productivity and reduce costs. Kerry and I described plans for developing a SEMI standard for Wait Time Waste methods and metrics that will allow semiconductor fabs to measure product wait time and use that data to reduce waste and cycle time. We showed how the WTW Reference Implementation (WTWRI) developed by Cimetrix can help fabs pinpoint process delays and determine how to reduce them.
Japan is going through some tough times both politically and in their semiconductor industry. But now is the time to work closely with high volume OEMs in Japan as they retool their strategy for the next phase of semiconductor growth.