By Dave Faulkner
Executive VP, Sales and Marketing, Cimetrix
Back in October of 2012, the outlook for the semiconductor equipment industry was dominated by dark clouds. First, the U.S. and European economies were in the doldrums, and there was a great deal of discussion about an economic slowdown in the China. But the economy was not the only factor that weighed upon the industry. There was also a significant amount of uncertainty about what was happening with the personal computer market. Demand for PCs was dropping, which impacted not just microprocessors, but DRAMs as well.
With all the news about the global economic health and the trends in PCs, analysts were calling for a significant fall-off in semiconductor equipment orders. Gartner, in October of last year, forecasted 2012 would end with a 13% drop in equipment revenue from 2011 levels, and that 2013 would be flat to slightly down. (See Semi Equip Spending To Drop 13.3% In 2012, Gartner Says).
However, the story became even worse. In December, Gartner's forecast changed to a drop of 17% in revenue in 2012 and a further decrease of 10% in 2013 (Gartner: Fab equipment still getting softer, next up cycle starts in 2014). SEMI's forecasts for 2012 and 2013 reflected a similar decline of 12% and 2%, respectively (See Semiconductor New Equipment Market $38.2 Billion for 2012; Recovery in 2014.
Analysts were so focused on the bad news that they did not consider the good news coming out. For example, the drop in PCs was accompanied by an increase in demand for tablet computers and smartphones, both of which used processors, flash memory, and mobile communications chips. Just a couple of months after the dismal forecasts, the three largest semiconductor manufacturers announced their intent to continue or increase equipment expenditures.
When industry analysts started to see some of the brighter signs, the picture improved. In January, SEMI called for a flat to down year, with an uptick in the second half of 2013 (In 2013, Fab Equipment Spending for Front-End Fabs to Shrink Back to 0% Growth). Here is what they predicted, effectively forecasting 0% growth in 2013: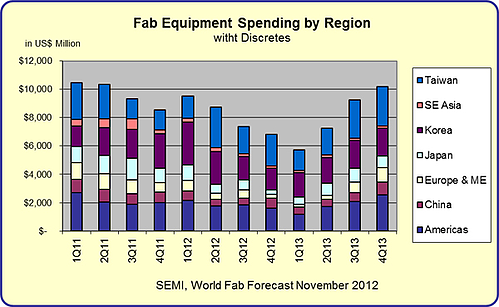 While 0% growth does not sound very good by itself, it certainly sounds better than down 10% or more!
In January 2013, market analysts were calling for a strong increase in semiconductor device sales, led primarily by communications chips (See EETimes: Semi Upswing Seen in 2013). TSMC described plans to increase their capital expenditures by 8% to a record $9 billion for 28nm production and initial 20nm technology. Intel announced they would invest $13 billion in 2013, including $2 billion on construction of a 450mm facility. Samsung even stated they would invest $11-$12 billion in 2013, approximately what they spent in 2012.
In addition, Applied Materials' latest quarterly report showed a strong forecast, up 15-25% (http://finance.yahoo.com/news/applied-materials-announces-first-quarter-210302893.html). In SEMI's February and March 2013 semiconductor book-to-bill reports, we had some very good news, showing the market for equipment growing with a robust book-to-bill of 1.10 for each month.
Over the last four months, we have seen a significant shift in the semiconductor industry forecast, from a flat-to-down year to an overall positive year for semiconductor equipment revenue. When we look at history of the semiconductor equipment industry over the last 15 years, we see how the industry cycles up and down. It is our belief we are currently experiencing the industry trough, when capital equipment sales are at their lowest in the cycle and they are about to trend upwards. At this point, it is difficult to forecast accurately what that increase will be, but we think the trends are positive.
Stay tuned and we will continue to update the story.