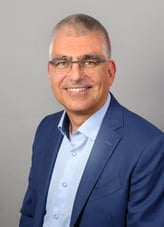 Cimetrix is pleased to announce and welcome Thomas Simon as its Director of Sales of Cimetrix Europe and Managing Director of Cimetrix GmbH. Thomas is based in Munich, Germany and will lead our growth in Europe. Thomas Simon will be responsible for ensuring the success of our growing customer base of leading semiconductor equipment manufacturers and smart manufacturing factories in Europe, providing strategic direction for Cimetrix Europe to have long-term success in the European market, overseeing local sales and account management and leading an expert team of Europe-based software engineers.

Thomas earned a Master of Science in Electronics and Semiconductor Technology and has 29 years of experience in the semiconductor, semiconductor backend, and electronics industries. He started his career as a field service engineer and then field service management working for companies such as Robert Bosch, SPTS (KLA), Centrotherm, UNAXIS (Evatec) and Suss MicroTec. Since 2011, Thomas has worked for Ulvac as Director of Sales and Business Development.
"Cimetrix has been serving European customers in the semiconductor and electronics markets for over 20 years. We have worked hard to gain a reputation for high quality products that are backed by responsive and exceptional technical support. Today, this provides us with a solid foundation of many longtime customers willing to serve as enthusiastic references. We also see strong and growing demand for Industrie 4.0 and Smart Manufacturing solutions. Accordingly, Cimetrix made the strategic decision to hire an experienced professional to lead Cimetrix's business in Europe. We are very fortunate to have found Thomas Simon, as his vast experience in the semiconductor and electronics industries is a great fit with Cimetrix. We look forward to growing the Cimetrix team in Europe to provide even higher levels of support to our European customers."
-Bob Reback, President and CEO

Cimetrix has been building international teams throughout the world to provide our clients with technical experts who work in their local time zones, speak their native languages, and understand their unique cultures. In all of the major regions for semiconductor and electronics manufacturing, we now have an experienced executive who serves as that region's Managing Director and is able to help our customers be successful and receive the highest levels of technical support.

To contact Thomas, please click the button below. Welcome Thomas!