As mentioned briefly in a previous posting, the adoption momentum for the SEMI EDA (Equipment Data Acquisition) suite of standards has picked up noticeably over the past 6 months, and a number of pilot projects are now underway at leading chip makers across the industry, especially in Asia. As these projects bear fruit, we expect to see explicit requirements for EDA interface capability in the purchase specifications of many more fabs in the coming months. But that's just a start.
The early adopters of these standards who have now accumulated years of production experience clearly understand that the key to realizing the full manufacturing benefit of this technology lies in the structure and content of the equipment metadata models, which to date have been largely determined by the equipment suppliers themselves. The resulting diversity of EDA implementations is reminiscent of the situation that existed in the days before GEM, when every chip maker required their own particular "dialect" of SECS-II, and the equipment suppliers had to support a custom interface for each customer… not a pretty picture.
Luckily, the standards community recognized this problem early on, and addressed it via the Specification for EDA Common Metadata (SEMI E164). This standard effectively unifies the equipment models across the fab, regardless of process type or supplier, enabling the factory software developers to create generic manufacturing applications that "plug and play" with the equipment to address the problems that are common to all (status and productivity monitoring, material flow, resource utilization, etc.).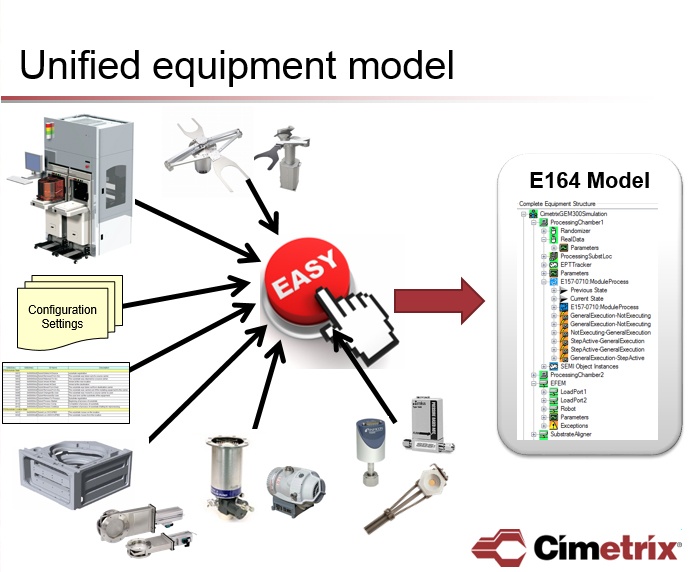 As a result, the next wave of factory implementations can directly leverage these lessons learned by requiring compliance to "Freeze 2, E164" level of the EDA standards suite, and focus their energies on new application development rather than supplier-specific custom integration software. Given the years of experience Cimetrix has dedicated both to the development of the EDA standards in the SEMI community and in providing product-based implementations on "both ends of the wire" (in other words, equipment and client/host side), we can support customers wherever they are in the implementation life cycle, from building awareness to initial purchase specification development to system architecture and application design to conformance and acceptance testing.
For more information about how we can help align your activities with this accelerating adoption process, please contact us… and stay tuned for more specifics on all the above!
For an introduction to EDA, download the presentation Interface A Overview: Characteristics, Benefits, and Applications.