Cimetrix participated in the recent European Advanced Process Control and Manufacturing (apc|m) Conference, along with over 160 control systems professionals across the European and global semiconductor manufacturing industry. The conference was held in Dresden, a beautiful city in the Saxony state of Germany which was the site of the original European conference in 2000 and host to this annual event many times since.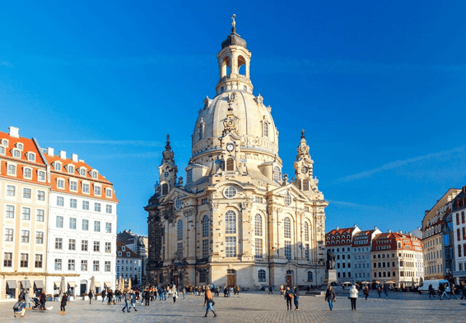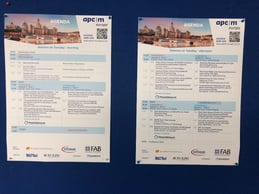 This conference, now in its 18th year and organized by Silicon Saxony, is one of only a few global events dedicated to the domain of semiconductor process control and directly supporting technologies. The participants represented all links in the semiconductor manufacturing value chain, from universities and research institutes to component, subsystem, and equipment suppliers to software product and services providers to semiconductor IDMs and foundries across a wide spectrum of device types to industry trade organizations – something for everyone.

As usual, the conference was very well organized, and featured a wide range of high-quality presentations, keynote addresses, and tutorial sessions.
Highlights of the conference included the following:
"FDC to the power of 2 – how it got us to the next level of manufacturing excellence" by Jan Räbiger of GLOBALFOUNDRIES – one of a number of long-time thought leaders in the development and application of APC technology, Jan described the latest phase of FDC system evolution, which includes broad use of the EDA/Interface A standards to zero in on recipe step-specific anomalies that had previously escaped detection.
"Applying the Tenets of Industrie 4.0 / Smart Manufacturing to Microelectronics Next Generation Analytics and Applications" by James Moyne (University of Michigan / Applied Materials) – James presented a very nice decomposition of the domain into 6 topic areas (Big Data Environment, Advanced Analytics and Applications, Supply Chain Integration, CPS/IIoT, Cloud Computing, Digital Twin) and explained our industry's relative status and recommended actions in each. one of the conclusions from his very disciplined treatment of the topic is that "Smart Manufacturing is essentially a connectivity problem" – and we couldn't agree more!
"Lithography Control is Data Hungry" by Tom Hoogenboom of ASML – his illustration of just how precise litho metrology has become was brilliant: controlling exposure and registration at the 5nm node on a 300mm substrate is like moving your chair in the conference meeting room by 1 mm and having an airborne observer of a 300km diameter region know it happened!
Finally, as in many prior years, Cimetrix was privileged to present at this conference, as Alan Weber delivered a talk entitled "EDA Applications and Benefits for Smarter Manufacturing." This presentation described the potential use of SEMI EDA (Equipment Data Acquisition) standards to improve the performance and benefit of a range of manufacturing applications; it also included a specific ROI case study for the use of EDA in the all-important FDC (Fault Detection and Classification) application to reduce the false alarm rate and the severity of process excursions. If you want to know more, you can request to view a copy of the entire presentation.
However, it wasn't all work and no play… The local sponsors, GLOBALFOUNDRIES, Infineon, and XFAB, hosted the conference banquet at the picturesque Adam's Gasthof in the nearby city of Moritzburg.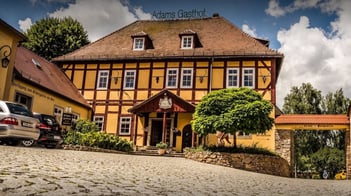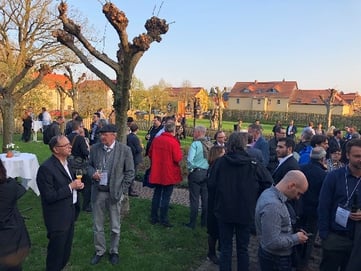 In addition to all the food and libation one could possibly consume, the participants were feted with a torchlight walking tour of the town and its iconic Moritzburg Castle. All in all, German hospitality and history at its best.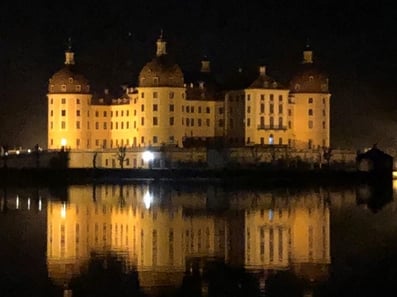 The insights gained from these and the other 30+ presentations are too numerous to list here, but in aggregate, they provided an excellent reminder of how relevant semiconductor technology has become for our comfort, sustenance, safety, and overall quality of life.
This (apc|m) conference and its sister conference in the US are excellent venues to understand what manufacturers do with all the data they collect, so if this topic piques your interest, be sure to put these events on your calendar in the future. In the meantime, if you have questions about any of the above, or want to know how equipment connectivity and control fit into the overall Smart Manufacturing landscape, please contact us!