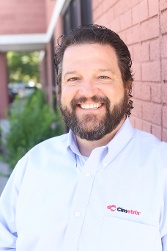 Meet Brent Forsgren, the Director of CCF Services at Cimetrix. Read on to learn a little bit more about Brent.
How long have you worked at Cimetrix?
I have been at Cimetrix for over 15 years!
Where did you go to school and what is your degree?
I graduated from Brigham Young University and my degree is in Computer Science.
What drew you to Cimetrix originally?
I wanted to find a smaller company where I could come in and immediately make an impact. Cimetrix fit that perfectly.
What is your role at Cimetrix currently?
I am the Director of CCF Services, where my team and I provide solution architecture guidance to our client's success. For our customers, this means they should have complete confidence that we will work hard to ensure they are successful.
What do you like best about the work you do at Cimetrix?
I love working with our clients and seeing them have successful outcomes.
What's something you've learned while working at Cimetrix?
I knew nothing about the semiconductor industry before I came to work at Cimetrix. Everything I know about semiconductors and the electronics industry, I learned while working here.
What is one of the hardest challenges you've been faced with at Cimetrix, and how did you overcome the challent?
I had not been with Cimetrix for very long when I was asked to help a client implement a GEM300 solution for their tool. As I mentioned above, I was brand new to the semiconductor industry, and that included the SEMI Standards and the GEM300 standards. I had read through the GEM300 standards, but I had not yet had an opportunity to apply them. Fortunately for me, there were GEM300 experts at Cimetrix. With their guidance and help, I was able to successfully deliver a CIM300 solution to the customer and I helped install and test it in the factory. I appreciate the team environment here at Cimetrix.
What's your favorite vacation spot?
I really like Kauai, Hawaii.
What do you like to do in your free time?
I like to work in my yard and in my vegetable garden. I also enjoy flying my drones and playing with my two dogs (Boxers).