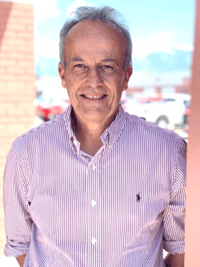 Meet Harry Aldrich, CCF Services Software Engineer at Cimetrix. Read on to learn a little bit more about Harry.
How long have you worked at Cimetrix?
I've been at Cimetrix for just over a year now and I work from Camden, Maine.
When did you graduate and what degree did you get?
I graduated with a BA in Physics from Gordon College in Massachusetts.
What drew you to Cimetrix originally?
I have actually been a happy customer of Cimetrix for close to 15 years, and I enjoyed working with the products and team. I'm excited to now be a part of this company.
What is your role at Cimetrix currently?
I am a Software Engineer on the CCF Services Team.
What do you think it means to a client to have a great CCF services team?
Cimetrix makes great products that are foundational to the successful implementation of equipment for today's factories. Having robust products to rely on is great, and having a company that stands behind those products is even better.
I have benefited greatly from the experts at Cimetrix in Services and Solutions who have "been there and done that", both from their knowledge of the standards to their expertise in the products that implement them.
What do you like best about the work you do at Cimetrix?
I value the opportunity to work with a number of different customers on a variety of equipment that present new and interesting challenges.

What is something you've learned while working at Cimetrix?
I have learned the importance of continuing to learn all the time.
What is one of the hardest challenges you've been faced with at Cimetrix and how did you overcome the challenge?
Learning a new platform (CCF) as part of a new team (CCF Services) with new responsibilities are among the challenges I've faced. I think teamwork and coaching have been the most significant things in dealing with these challenges.

What is your favorite vacation spot?
Tirol, Austria

What do you like to do in your free time?
I am an avid golfer and a big sports fan.