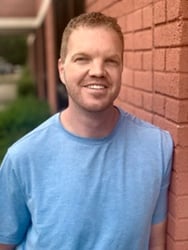 Meet Rich Kingsford, CCF Services project Manager at Cimetrix. Read on to learn a little bit more about Rich.
How long have you worked at Cimetrix?
I've been at Cimetrix for just under a year.
When did you graduate and what degree did you get?
I finished my graduate work and received my MBA in 2012.
What drew you to Cimetrix originally?
I had never worked on hardware integration before – just software integrating with other software. I wanted to do something new and round out my experience.
What is your role at Cimetrix currently?
I am the Project Manager for the CCF Services team. I oversee and coordinate various projects with a variety of clients, concentrating on things such as scope, timeline, execution, quality, resources, and finance.
What do you think it means to a client to have a great CCF services team?
It's important that our clients know we are executing successful project after successful project. To me, this means we knock out all the scope in the desired timeline while staying within budget, even if the scope changes or other challenges hit us.

What do you like best about the work you do at Cimetrix?
I like seeing the iterative improvements to our analysis, reporting, and tracking systems. Finding and addressing the vulnerabilities in these is so important. I also enjoy learning about machine risks and mechanisms we can build to prevent the risk events or handle them if they occur (contingency planning).

What is something you've learned while working at Cimetrix?
In a status meeting recently, a client asked us for a contingency plan for when a wafer might slip out of place on a FOUP. We designed a solution that would identify the risk event, alert the user, and take damage-prevention metrics. This taught me a valuable risk mitigation tactic and helped the customer to gain a really cool preventative control.
What is one of the hardest challenges you've been faced with at Cimetrix and how did you overcome the challenge?
One challenge that comes to mind was when a client wanted payment options that were different from our standard practice. We'd never done things in this new way before, so we responded quickly by designing a solution, getting everyone on the same page, and trying it out. It worked ok and we learned a lot.

What is your favorite vacation spot?
Favorite is a tough one, but Bear Lake comes to mind – I love the KOA campground over there (especially its Pickleball and Shuffleboard courts).

What do you like to do in your free time?
I really enjoy instructing a few courses at some universities. I teach a software development capstone, an agile management, and a finance class. I also like playing Pickleball, Pool, Basketball, and board games when I can persuade my kids to put the screens down and play with me.