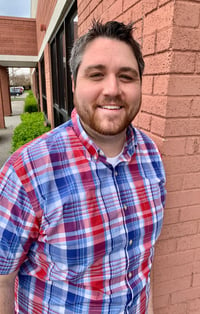 Meet Richard Andrew, CCF Services Software Engineer at Cimetrix. Read on to learn a little bit more about Richard.
How long have you worked at Cimetrix?
I have been working at Cimetrix for just over two years now.
When did you graduate and what degree did you get?
I graduated from Utah Valley University with a Bachelor's of Science in Computer Science.
What drew you to Cimetrix originally?
I wanted to work on fun tools and equipment, and get to control robots!
What is your role at Cimetrix currently?
I am a Software Engineer on the CCF (CIMControlFramework) Services Team.
What do you think it means to a client to have a great CCF services team?
Having a great CCF services team means clients can either have Cimetrix do part or all of a project and trust that it will accomplish what they need and they won't have to worry about it. We value being able to give our clients peace of mind.
What do you like best about the work you do at Cimetrix?
I like the fulfillment I get when our customers are happy with our software and the work we do on our Services team.
What is something you've learned while working at Cimetrix?
I've learned how to be a better developer and how to work on various projects to accomplish unique goals. I've learned how to talk with clients, understand their needs and train them on how to best utilize our software.
What is one of the hardest challenges you've been faced with at Cimetrix and how did you overcome the challenge?
Becoming Microsoft certified required a lot of dedication and effort both in the office and outside. It was like going to school full time and working full time at the same time. I overcame it through dedicated studying, spending the time required, and taking lots of practice tests!
What is your favorite vacation spot?
I like to go fishing up in Alaska.

What do you like to do in your free time?
I like to play softball, play games, and spend times outdoors.