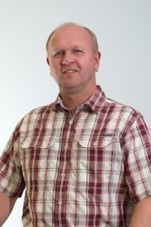 Meet Mark Bennett, a member of the Solutions Engineering team. Read on to learn a little bit more about Mark.
How long have you been working at Cimetrix?
I have been with Cimetrix for over 15 years. I started back when Cimetrix was primarily involved with robotics.
Where did you go to school and what did you get your degree in?
I went to Brigham Young University, and got a B.S. degree in Mechanical Engineering.
What brought you to Cimetrix originally?
At the time, I was working in the HVAC (Heating Ventilating and Air Conditioning) industry as a Mechanical Engineer. This was my first job out of college, and I decided that I didn't want to make HVAC my career choice. I got introduced to Cimetrix by my brother, who was working with Cimetrix as a customer.
What do you like most about your job?
I like solving problems and learning new things. What we do is not rocket science, but it's probably just about as challenging.
What do you think it means to provide great customer support?
Solve customer issues and help them successfully get their equipment deployed.
What's the biggest accomplishment you've had at Cimetrix?
A few years ago, I was sent to TSMC in Taiwan to help a customer get a tool accepted in the FAB. They were having problems getting the E84 automated material handling system working. It was a very difficult assignment because the tool was already installed in the FAB and there were a lot of problems to fix. The FAB only allowed us to perform one or two tests per day. So, I captured log files from the tests, went out to the parking lot, and made code changes in the car. To fix the problem, I pretty much had to rewrite the entire E87 AMHS handling code, and a lot of the load port code as well.
How do you deal with challenges that come up at work?
Most of the challenges I face involve solving issues that customers report. Here are some things that I might try:
Reproduce the problem using a sample application. Try to identify if this is a problem with the product, or if the customer is not using it properly.
Search our database to see if this issue has been reported before. Find out how it was resolved in the past.
Look through the SEMI standards to see how it should behave.
Look through product documentation and release notes.
Ask others for their opinions/suggestions.
What's your favorite vacation spot?
Lately, we have been staying close to home for vacations. We have taken trips to the San Francisco Bay area. We enjoy that.
What's something you've learned while working at Cimetrix?
I've learned a lot about the SEMI standards. I have also learned a lot about software development and programming.
What do you like to do in your free time?
I enjoy watching movies. I also like trying to perfect my cooking skills on my Kamado barbecue grille.