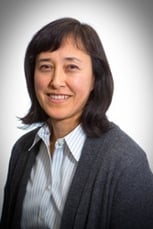 Meet Tami Tracey, Manager of Solutions Engineering. She's been with Cimetrix for six years and has been a significant contributor in her position. Read on to learn a little bit more about Tami.
Where did you go to school and what did you get your degree in?
I went to the University of California at Irvine and graduated in Computer Science. During my undergraduate degree I was more interested in circuits and robotics. When I moved to the Bay area, I was drawn to the semiconductor equipment manufacturers in Silicon Valley where software applies to the physical world nearly directly.
What brought you to Cimetrix originally?
I worked in control systems software development on semiconductor front-end equipment for more than a dozen years, which from time to time touched on factory communications. A work colleague mentioned an opening and I liked the idea of working on software that integrates the equipment and the factory.
What do you like most about your job?
Debugging. Diagnosing problems feels like part-logic, part-archaeology, and part-intuition, and it is a fun place for my brain.
What do you think it means to provide great customer support?
Listening carefully to clients, learning their use cases and concerns, and advocating for their needs when it comes to product improvements
What's the biggest accomplishment you've had at Cimetrix?
The most memorable client "issue" lasted more than a year and required both technical analysis of incident logs, product testing, and sustained project management. We were successful helping the client, and I earned the respect of their engineering lead.
How do you deal with challenges that come up at work?
I keep an eye on the big picture. Hard work is hard work and can't be avoided, so I prefer to dig in and get it going. I also have a practice of summarizing any particular incident for myself, so that I can be clear on what was learned and be able to return to that analysis later if needed.
What's something you've learned while working at Cimetrix?
Cimetrix is a growing company and its value system is really led by the executives. The company has challenged itself to improve internally, and the culture embraces both change and respect. I've learned a lot about myself, others, and 'organizations' in this time.
What's your favorite vacation spot?
Switzerland, because of the Alps.
What do you like to do in your free time?
I volunteer for a local non-profit involved in education about emergency preparedness; last year I helped the organization get their non-profit status. I also have played frisbee sports for a long time, and I help run a disc golf tournament for women where I am responsible for sponsorship, social media marketing, and event operations.