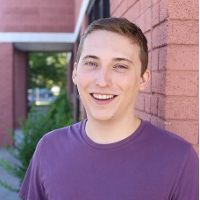 It's time to meet the folks that keep Cimetrix running - our Front Office team! Meet Devin Stone, a Cimetrix Sales & Marketing Administrator. Read on to learn a little bit more about Devin.
How long have you been working at Cimetrix?
I've been working at Cimetrix for just shy of two years.
What is your role at Cimetrix?
I provide administrative support to our global sales team as well as our marketing department. A large part of my role at Cimetrix is working on the development and maintenance of our new CRM (Customer Relationship Management) system and integrating it with our marketing automation and accounting systems.
What drew you to Cimetrix originally?
I was looking for a job where I could put my Dynamics CRM background to good use when I found the opening at Cimetrix. After my first day of interviewing and meeting the team, I was really impressed with the people and the positive company culture.
What do you enjoy most about the work you do?
The team is full of amazing people who are fun to work with each day.
What do you find to be most challenging about your job?
Developing the CRM has presented tons of puzzling obstacles that require a lot of creative thinking. Sometimes the intuitive solution just won't work for whatever reason and you have to try something outside-the-box. It's challenging but very rewarding once you find a solution and see it working in action.
What are your top 3 favorite movies?
My top 3 favorite movies right now are Don't Look Now (1973), Last Tango in Paris (1972), and Santa Sangre (1989), in no particular order.
What do you like to do in your free time?
I spend most of my free time playing guitar, collecting / listening to records, trying my hand at new recipes, and spending time with my girlfriend.