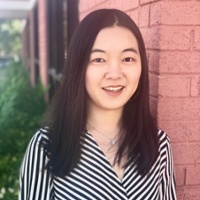 It's time to meet the folks that keep Cimetrix running - our Front Office team! Meet Emily Wang, a Cimetrix Staff Accountant. Read on to learn a little bit more about Emily.
How long have you worked at Cimetrix?
I've been working at Cimetrix for about 2 months.
What is your role at Cimetrix?
I am a staff accountant here at Cimetrix.
What drew you to Cimetrix originally?
I found the Staff Accountant position posting on LinkedIn. I had a video interview, and that was the first time I met people from Cimetrix. All of them were very nice and friendly even though they knew almost nothing about me at that time. Among all the companies I have interviewed with, Cimetrix was the first one that had a focus on a personality test. The company's care about an employee's personality surprised me and that's the time I realized this company was looking for someone who really fit the company culture.
What do you enjoy most about the work you do?
This is my first full-time job after college. I find it interesting that the accounting knowledge I learned from books exists in the real world and this knowledge can actually help the growth of a company. It feels amazing knowing that my knowledge can help. Moreover, I am not just doing repetitive daily work at Cimetrix. There are always new challenges and tasks assigned to me. The company always says they want to set me up for success, which encourages me a lot.
What do you find to be most challenging about your job?
I am still learning, and I knew little about practical accounting work when I started working here. It can feel confusing when the real-world scenarios are so different from the theoretical. But the more exposure I get to the practical world, the more I realize that accounting is not just about numbers, but about helping the company be sucessful.
What are your top 3 favorite books and/or movies?
I don't watch a lot of movies, but I watch millions of TV series. My top favorite three are: Doctor X, Person of Interest, and Modern Family. The actress in Doctor X, Ryoko Yonekura, is a part of the reason I came to US.
What do you like to do in your free time?
I liked to train my cat when he lived with me, although he never understood. I like video games. My favorite two are League of Legend and Overcooked.