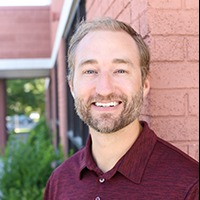 It's time to meet the folks that keep Cimetrix running - our Front Office team! Meet Jake Strong, Cimetrix Controller. Read on to learn a little bit more about Jake.
How long have you worked at Cimetrix?
I've been at Cimetrix for 4 years and 4 months.
What is your role at Cimetrix?
Controller
What drew you to Cimetrix originally?
I was coming from a company where my role was highly specialized and I was looking to work for a company where I could have a more involved and comprehensive role in the accounting department. Cimetrix provided me with that opportunity. In addition, once I had my first interview, I was immediately drawn in by the friendliness of the admin team and impressiveness of the executive team.
What do you enjoy most about the work you do?
I really enjoy the people with whom I work. I also enjoy that my position enables me to work with all of the other departments within Cimetrix; that gives me the opportunity to work with nearly every employee and to be involved with all aspects of the company.
What do you find to be most challenging about your job?
A result of working in a role that touches so many other parts of the company is that I frequently come up against projects that are unrelated to any of my previous work experience. However, this has enabled me to gain a lot of valuable exposure to areas beyond just accounting and to develop critical thinking and research skills that will serve me in all of my professional life.
What are your top 3 favorite books and/or movies?
Ever since streaming TV took off I have been watching fewer and fewer movies. So, I'll give you my top 3 TV series: Seinfeld, Game of Thrones and VEEP.
What do you like to do in your free time?
I like to be outdoors as much as possible. During the summer I spend a lot of time at the pool or paddle boarding at the lake with my wife and 3 kids. We also like to camp, hike and explore all of the amazing state and national parks that Utah has to offer; in the winter I snowboard while I wait for summer to start again. I also like to gather around good food and sporting events with my family and friends.