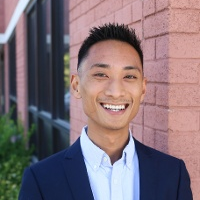 It's time to meet the folks that keep Cimetrix running - our Front Office team! Meet Joshua Castro, a Cimetrix Staff Accountant. Read on to learn a little bit more about Joshua.
How long have you worked at Cimetrix?
I have worked at Cimetrix for over a year. This is my first job after graduating from the Masters Program at the University of Utah, and I hope to work here for much longer.
What is your role at Cimetrix?
I am a staff accountant here at Cimetrix. For the most part, I process purchase orders from customers and ship Cimetrix software to them. I am also in charge of the company's payables and employee expense reimbursements using Mineral Tree and Certify. We have a small accounting team here at Cimetrix, so I also help with various accounting projects for the executives.
What drew you to Cimetrix originally?
I found out about the staff accountant position through the University of Utah career website. What drew me in the most was how much they are devoted to finding the right people for the company by conducting a very thorough interview process. It shows that they care for the employees, and want to make sure they find people who are the right fit for the company's culture. The people are also very friendly, and I could tell that it feels like a family here.
What do you enjoy most about the work you do?
I like being challenged so it is always invigorating when I'm assigned to do new accounting projects. I am not being trained just to perform simple accounting tasks. Rather, the leadership are sculpting me to become a well-rounded accountant. I have been the lead as I've taken on different accounting projects, which allows me to use my accounting skills and knowledge. I feel like the company cares about my growth which encourages me to work even harder.
What do you find to be most challenging about your job?
The most challenging part about my job is juggling between the different accounting functions I am in charge of. This is especially hard during the period of the year when clients tend to send the most puchase orders. It would be easy to get overwhelmed by this, on top of my other accounting duties and deadlines. However, this has taught me to organize and prioritize my tasks so that I can complete them all on time. I keep a checklist of things I need to do for the day and the week. This helps me keep track of things I need to do, and it feels good as I check off each task from my list. These challenges have also taught me to just take a break from my work when I am feeling stressed. I take short walks outside to clear my mind, so that I am reenergized when I return back to my duties.
What are your top 3 favorite books and/or movies?
I don't have a favorite book, but I watch a lot of movies. My top 3 movies are:
Thank You For Your Service – This is a well-executed movie about what it is like for our military service members who have just returned home from their service. I have two family members who served in the military, and I have gained so much more respect and understanding about what they have done for our country. The movie captures a large range of emotions, and I feel for the characters in the movie.
A Star is Born – The directing of this movie is so well-done. I have not seen the previous versions of this movie, but this was a great storytelling of Hollywood. The soundtrack is also amazing.
Four Sisters & A Wedding – This is a Filipino comedy movie about four sisters who are trying to stop their younger brother from marrying a girl they do not like. I like this movie because it has a lot of my Filipino culture in it, and I have dealt with similar things with my own sisters.
What do you like to do in your free time?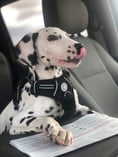 I like to spend time with my 6-month old Dalmatian Radar. He used to be in a military bomb-sniffing program before we got him, but the owners decided that that was not the right route for him. We bought him from the military and are training him to become a service dog specifically for PTSD. He is currently in puppy school, and I'm also training him to do different tricks and commands. I also like to hike and travel so we usually do trips in our trailer to different hiking spots. The most recent hike is at Zion National Park where we did Angels Landing. It was a long hike but I safely crawled my way up to the top. Lastly, I play video games on my free time. I enjoy the game Overwatch, which is a fun team-based game with different characters and abilities.