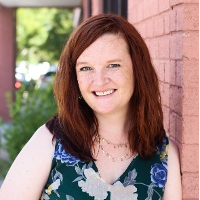 It's time to meet the folks that keep Cimetrix running - our Front Office team! Meet Kelli Freshman, a Cimetrix Administrative Assistant. Read on to learn a little bit more about Kelli.
How long have you been working at Cimetrix?
I have worked at Cimetrix since June of 2018, though it feels like I've been a part of this team for much longer.
What is your role at Cimetrix?
My official position is Administrative Assistant, providing support to all of the employees of Cimetrix. My day to day tasks vary greatly from all things big and small. I enjoy arranging the details of travel, gatherings and client visits, ensuring things go smoothly. I am responsible for maintaining the calendar for the office, tracking our employees near and far as they visit clients, tradeshows, or work remotely all over the globe. Annually, Cimetrix holds an "All Company Gathering" which is a week where all of our employees, regardless of where they work/live, meet in Salt Lake City for training, team building and a lot of fun! This event includes many moving parts and I love making sure it all goes off without a hitch.
What drew you to Cimetrix originally?
The first things that attracted me to Cimetrix was the thoroughness and precision that comes behind every decision. From the smallest details to the largest decisions, they place the utmost importance in making sure whatever they decide will move the company forward. Having worked here, I value the team atmosphere more than anything. Regardless of your position, opinions are heard and valued. I also appreciate the attitude of getting the people that are best suited for any position and letting them shine at that, rather than trying to stretch employees thin doing everything.
What do you enjoy most about the work you do?
I find it incredibly rewarding to be a part of things going smoothly, according to plan. I love helping people and making them feel welcome and happy at work.
What do you find to be most challenging about your job?
There are definitely a lot of different aspects of my job. Keeping track of the different tasks and varied responsibilities takes a focus and ability to multi-task to a level at which I haven't had to reach before. I've enjoyed the challenges of this position, and excited to continue to help other departments in the areas I have experience in.
What are your top 3 favorite books and/or movies?
As for books, I really enjoy checking thrillers and self-help books out from the library and setting them on my nightstand until they are due and I have to take them back unread.
The first half of movies are usually pretty good, then I fall asleep because my husband's shoulder is incredibly comfortable. I notoriously fell asleep in the theater before the beginning credits started when the new Star Wars movie came out.
What do you like to do in your free time?
I'm a somewhat newlywed, and love spending time with my husband and our six kids. We enjoy the crazy and the not crazy times equally, whether we're exploring Utah or enjoying quiet nights at home.