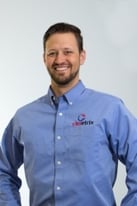 Meet David Harrison, Quality Engineering Team Lead. Read on to learn a little bit more about David.
How long have you worked at Cimetrix?
I have been with Cimetrix for 1 year and 6 months.
Where did you go to school and what is your degree?
I graduated from the University of Utah School of Computing with a Bachelor Degree in Computer Science in December of 2016.
What brought you to Cimetrix originally?
I was looking for positions to start after graduation and found Cimetrix through Glassdoor.com. The Company values and standards really resonated with me. I was excited to join an industry with so much growth and movement.
What do you like most about your job?
I look forward to coming to work every day on a great team of individuals and contributing to the development of products that affect millions of lives around the world.
What do you think it means to provide great Quality Engineering?
To build the quality into the product itself by working with the entire development team, from CT&S to Marketing, to deliver stable, reliable products to our customers, and build the quality of our team members as well through mentorship and collaboration.
What's the biggest accomplishment you've had at Cimetrix?
Taking on roles of QE Team Lead and SCRUM Master when I hadn't even been with the company for one year was a unique challenge and overcoming that challenge and building a great QE culture has been a big accomplishment.
How do you deal with challenges that come up at work?
The biggest resource I have when I am confronted with a difficult challenge is my peers and colleagues. I am fortunate to work with many people who have vast knowledge and experience. Their willingness to take on challenges as a team makes challenges easy to deal with.
What's something you've learned while working at Cimetrix?
Companies that live by their values and lead by example by practicing what they preach will draw success to them.
What's your favorite vacation spot?
Anywhere there is a tropical beach. But if we are being specific, Kauai, HI.
What do you like to do in your free time?
I like home improvement, reading, hiking, spending time with family and friends, board games, painting, rock climbing, gardening, playing music, cooking, and video games.