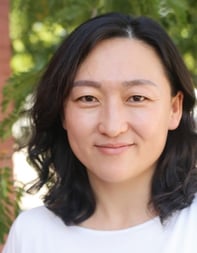 Meet Clare, a member of our Solutions Engineering team. Clare lives in China and is an integral part of our China office. Read on to learn a little bit more about Clare.
How long have you worked at Cimetrix?

I have worked at Cimetrix for 22 months, since May 2018.
Where did you go to school and what is your degree?

I got my Bachelor's degree at the Harbin Institute of Technology (Harbin, Heilongjiang Province, China) and my Master's degree at Fudan University in Shanghai, China. What is your role at Cimetrix?

I am a Cimetrix Solution Engineer located in China.

What drew you to Cimetrix originally?

I have known of Cimetrix for many years and have been learning from the Cimetrix website. Cimetrix can be called a mentor for my working in the past few years when it comes to technology standards and expertise. It was great to be able to join Cimetrix and get to know more people as a part of this team.

What do you enjoy most about the work you do?

Sharing my experience and knowledge with others and learning from different people at the same time is what I enjoy most about the work I do.

What do you think it means to provide great customer support?

I think we provide great customer support by not just replying why or what their solution is, but also telling them how to fix their problems on their own.

What is the biggest accomplishment you've had at Cimetrix?

My biggest accomplishment is the localization of Cimetrix articles and coordination for EDA Seminars with SEMI China.

How do you deal with challenges that come up at work?

As challenges come up at work I like to just keep learning and consult with all of the experts on our team. Our team is all around the globe and everyone has a special expertise about something, so we are constantly learning from each other.

What's something you've learned while working at Cimetrix?

The passionate support of Cimetrix! It is not only about solving the current problem, we really care about the customer's need and want to help them to improve their skills and products.

What do you find to be most challenging about your job?

To support our customers' need for comprehensive understanding of the equipment, the software and factory automation related knowledge. The limited hands-on experience on equipment control software is a big challenge for me.

Do you have a favorite quote or saying? Why?

天道酬勤 (God rewards the diligent)

What are your top 3 favorite books and/or movies?

A Dream in Red Mansions, Gone With The Wind and The Shawshank Redemption.

What's your favorite vacation spot?

My hometown, Inner Mongolia