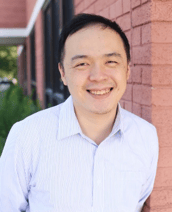 Meet Samson, a member of our Solutions Engineering team. Samson lives in Taiwan and is an integral part of our Taiwan team. Read on to learn a little bit more about Samson.
How long have you worked at Cimetrix?
I have been here about one and a half years
Where did you go to school and what is your degree?
I graduated from Taiwan Tamkang University. My bachelor's degree is Management Information System (MIS).
What is your role at Cimetrix?
I am an engineer on the Solutions Engineering team, and I am based in Taiwan.
What drew you to Cimetrix originally?
When I interviewed, I liked the Cimetrix working culture very much.
What do you think it means to provide great customer support?
Our customers sometimes have some limitations when they are using our software. We need to understand what the current situation is that they face before we give them any suggestions. We not only provide good software to our customers, but we also try to provide the best service.
What's something you've learned while working at Cimetrix?
Working at Cimetrix is very special. You need to keep learning all the time, because there is so much knowledge we have to pick up.
What are your top 3 favorite books?
The Little Prince
Crime and punishment
Turn left and turn right (向左走向右走)
What's your favorite vacation spot?
I most enjoy going to my grandfather's house. It is located in a rural area in the south of Taiwan. We have a very big courtyard in the front of house. On summer nights we roast chicken, corn and sweet potatoes.
What do you like to do in your free time?
Stay with family, cycling, cook a cup of tea.