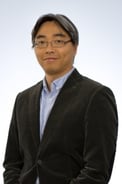 Meet Ian Ryu, a member of the Solutions Engineering team in Korea. Read on to learn a little bit more about Ian.

How long have you been working at Cimetrix?

I started in May 2016 and have been here for two years now.

Where did you go to school and what did you get your degree in?

I got my BS in electronics/electrical engineering in Korea.

What brought you to Cimetrix originally?

Cimetrix was looking for an engineer who can speak Korean for the Korean market.

What do you like most about your job?

The people, especially our leadership team. I have strong trust and pleasure working with people here.
I also have strong confidence that I am improving my skills as a software engineer

What do you think it means to provide great customer support?

Making customers happy. By doing that we will grow together for mutual success.

What's the biggest accomplishment you've had at Cimetrix?

Becoming a better engineer with my team. I've been learning and improving myself with them.

How do you deal with challenges that come up at work?

I've tried to develop myself for when these situations come up. I have colleagues who are experts in each product, too

What's your favorite vacation spot?

I enjoy camping with my family. We went to Mirror Lake and Goblin Valley in Utah many times.

What's something you've learned while working at Cimetrix?

Working with honest, hard-working people raises me up with relief

What do you like to do in your free time?

Playing video games with my children. I can't forget my 5 year old son beat me on Mario cart!