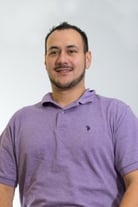 Meet Jesse Lopez, a member of the Solutions Engineering team. Read on to learn a little bit more about Jesse.
How long have you been working at Cimetrix?
I have worked at Cimetrix since August 2017
Where did you go to school and what did you get your degree in?
I received my BS in Computer Science from National University. I'm currently working towards my Masters in Computer Science at National University as well. I also completed AEGIS Computer Network Training while in the Navy. I also have an Associate's of Science from Utah State University.
What brought you to Cimetrix originally?
I worked at IM Flash Technologies as an Engineering Technician. After getting my Bachelor's in CS I saw a job posting with Cimetrix that perfectly fit my unique background.
What do you like most about your job?
The satisfaction of solving problems with a proactive support team.
What do you think it means to provide great customer support?
I think that great customer support means listening to understand and not just to hear. Once you can fully understand the customers problem, then you can help provide an effective complete solution.
What's the biggest accomplishment you've had at Cimetrix?
Being able to provide training to new team members and clients.
How do you deal with challenges that come up at work?
I try to use all of the resources I have to figure it out myself. If it is time sensitive or I have spent too much time on it then I will run it by the rest of the CT&S team.
What's your favorite vacation spot?
Sydney, Australia.
What's something you've learned while working at Cimetrix?
Multi-threading and working with COM objects.
What do you like to do in your free time?
Spend time with my wife and three sons. I enjoy teaching my sons how to fix what they break and how to create what they imagine.