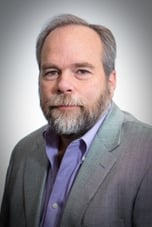 Join us as we meet the Leadership Team of Cimetrix in our "Meet the Team" series.
Richard Howard - Director of Technical Operations—has over 30 years of experience in both vertical and custom software development, and has been with Cimetrix since 2011. Howard previously worked for Murata Machinery USA/ICIS, Inc. as a Senior Software Engineer and Principle Software Engineer. During that period, he worked with large companies such as Honda, Fuji Film, Jet Blue, Fed Ex, Ford, Sony as well as many others involved in manufacturing and distribution. He also has been in various roles for firms developing software for credit unions, banks, insurance, leasing, home automation and medical records. He has degrees in Business and Engineering from the University of Utah and is a Professional Scrum Master.
-----
What brought you to Cimetrix originally?
I spent a large portion of my career working in the Automated Material Handling System industry. There is something about controlling equipment with software that I found intriguing. When I left that industry, and tried working in businesses that didn't involve equipment control, I found myself bored and unchallenged. When I saw an opportunity to get back with a small company that was involved with equipment control, I jumped at it.
What's your favorite thing about working here?
The people at Cimetrix. Our team is comprised of the best group of people I have had the privilege of working with, both professionally and personally, in my life.
Your role at Cimetrix has covered a few different areas over the years. What do you enjoy most about your current position?
Two things: 1. I get to work with the entire organization and everyone in it. 2. The work is always challenging.
Do you have a favorite saying? Why?
My favorite saying is one my father used to say to me through my teenage years: "No matter what you do in life, always do a good job and learn everything that you can." I have found great wisdom in those words as I have advanced through life.
How do you deal with challenges that come up in your work life?
The only thing you really can do, address them as they arise. If there were no challenges, what would be the point of getting out of bed in the morning?
What do you like to do in your free time?
I have several hobbies that I rotate between depending on my mood. I like to golf and enjoy getting out as much as possible. I like cooking, home remodeling projects, woodworking, attempting to play musical instruments and, of course, being a grandpa.
What's the best thing that's happened to you in your time working at Cimetrix?
The best thing was joining Cimetrix. I have enjoyed every opportunity and every challenge that I have been given. I like to get up each morning and get to work. Working at Cimetrix is great!
-----