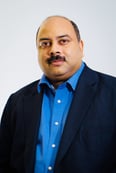 Join us as we meet the Leadership Team of Cimetrix in our "Meet the Team" series.
Ranjan Chatterjee—Vice President & General Manager, Smart Factory Business—joined Cimetrix at the first of 2016. Previously he had worked as the General Manager for Motorola Solutions — Software Solutions from 2007 to 2015, and as the Manager — Automation Systems Business Unit at Motorola — Global Software Group. He originally started with Motorola Corporation in 1989. With over 25 years in the technology industry, Ranjan has a natural ability to identify market opportunities, define and create winning products and strategies, and formulate unique go-to-market software business models. He has degrees in Computer Science from both the University of Pittsburgh and Carnegie Mellon University.
What brought you to Cimetrix originally?

I started working with Cimetrix for PC-based open architecture machine control software products for factory automation when I was at Motorola. It evolved to co-developing and deploying communications products for factory automation across all of our factories worldwide with thousands of machines.

What's your favorite thing about working here?

We are creating software products and deploying capabilities at the most sophisticated and expensive factories in the world. We are participating and evolving the way electronic products are made worldwide. We are enabling thousands of machines to be connected and delighting hundreds of customers. We are punching above our weight. I am very proud of that.

What do you think makes a great VP and GM of the Smart Factory Business?

We have created a business to meet the needs of our customers by providing solutions that take advantage of the growing needs of our customers for solutions. Our customers are asking for collecting data, analyzing it and help in making decisions using analytical tools in a cost efficient manner. As leader of this business, I need to enable my team and the company to deliver this vision to delight our customers. This is a great opportunity to serve our customers.

Do you have a favorite quote or saying? Why?

I have a lot of quotes that I like depending on the context, mood and company. One quote that is applicable to this forum – "The only constant is change". We need to be able to embrace change and be able to lead this momentum called Industry 4.0.

How do you deal with challenges that come up in your work life?

I like to Collect Data (listen to as many people as possible), Analyze (get feedback from as many people as possible) and Act. Sometimes a good nap helps also.

What do you like to do in your free time?

I like reading. I use most of my free time reading.

What's the best thing that's happened to you in your time working at Cimetrix?

I love robotics and software and working at Cimetrix helped me get back to doing both. The management and team at Cimetrix have an innate desire to be the best at both. The timing and desire to pursue both at Cimetrix is the best thing that has happened.

Learn more about our leadership team by clicking below: