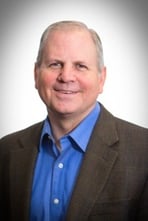 Join us as we meet the Leadership Team of Cimetrix in our "Meet the Team" series.
David Francis—Director of Project Management—has worked in the semiconductor industry for more than 26 years providing software and services in manufacturing automation. Prior to joining Cimetrix in 2010, Francis worked as an Engineering Manager at Applied Materials from 2007 to 2008, as both the Director of Product Engineering and the APF Product Manager at Brooks Automation from 2000 to 2007, and as the Director of Operations at Auto-Soft Corporation from 1993 to 1996. He has a bachelor's degree from the University of Utah and an MBA from the University of Utah – David Eccles School of Business.
-----
What brought you to Cimetrix originally?
I knew Bob Reback from back in the early days of my career. I was doing equipment integration services for Motorola in Austin, TX using the products Bob was selling. Years later I worked with Mike Thompson, who sits on the Cimetrix board, for many years when he was at AutoSimulations/Brooks Automation. Mike connected me with Bob again and it was a good fit.
What's your favorite thing about working here?
Without a doubt, it's the people. I really love the people I work with here at Cimetrix. It also doesn't hurt that it is a pretty exciting technology field that is enabling the manufacturing of all our new electronic gadgets.
What do you think makes a great Engineering Manager?
I think a great engineering manager is someone that can inspire developers to be creative and look for new ways to improve the products they work on while also establishing the discipline necessary to ensure consistent, high-quality products.
Do you have a favorite quote or saying? Why?
"Seek first to understand, then to be understood." I think in today's world everyone is too worried about being heard – we aren't listening to others. Often the divide between two different viewpoints isn't as wide as it first seems, but it takes communication and listening to get a true understanding so you can build a basis for coming together.
How do you deal with challenges that come up in your work life?
I am one who likes to talk things through. I like to get different perspectives on how problems can and should be handled.
What do you like to do in your free time?
I enjoy boating and waterskiing with my family. I also love to tinker and fix things – it's like solving a puzzle.
What's the best thing that's happened to you in your time working at Cimetrix?
Being part of the management team working to define roles and responsibilities to position Cimetrix for healthy growth now and in the future.
-----