Cimetrix just finished exhibiting at SEMICON Southeast Asia for the first time. And a grand entrance it was. Located in Kuala Lumpur, Malaysia, this is one of the regional SEMICON shows put on by SEMI, a global industry association serving the manufacturing supply chain for the electronics industry. Southeast Asia is a hotbed for semiconductor backend and PCBA (SMT) industries. With our new employee Raymund Yeoh located in Penang, Malaysia; combined with our distribution partner Electrotek based out of Singapore, Cimetrix now has a strong presence to support Industry 4.0 adoption in Southeast Asia.

By working closely with SEMI, Cimetrix had a new booth in the SEMI Smart Manufacturing Pavilion and an impressive demonstration in the SEMI Smart Manufacturing Journey.

Our new booth emphasized (1) our global reach as the world's largest supplier of equipment connectivity and control software, (2) our new SapienceTM factory side platform which has beta installations at select major EMS and electronics manufacturing sites, and (3) our new EquipmentTestTM connectivity tester designed to make equipment connectivity easier than ever before.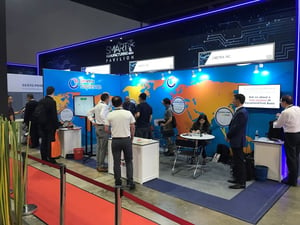 Our booth was extremely busy the whole time with demonstrations of Sapience and EquipmentTest. We gave out vouchers for free copies of EquipmentTest to booth visitors which generated excitement and will increase learning for GEM connectivity in Southeast Asia. It was interesting to see the number of factory engineers and managers who visited us seeking help with getting their equipment connected for traceability and OEE (Overall Equipment Effectiveness). And we had the answers. Right next door to our booth was the SEMI Smart Manufacturing Journey which had guided tours demonstrating the use of Industry 4.0 throughout the electronics manufacturing supply chain. Our job was to demonstrate data collection using standards from live equipment in real time displaying OEE charts and data for each tour to witness. Setting this up can take months in a factory. Our Smart Factory Business Team is out to turn this problem upside down. They connected to all 4 live equipment in one day and were ready to go at the start of the show. And we are ready to do that in factories too.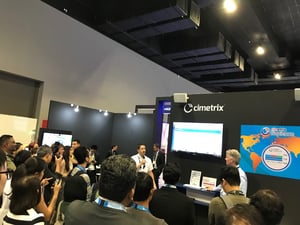 Here is Mike and Jesse giving a demonstration to a tour group. The equipment is located right behind the crowd for all to see; with Sapience displaying data and the crowd taking pictures. SEMI did a great job organizing this. We had top government officials, factories, equipment manufacturers, electronics distributors and universities come through the tours. We also exceeded expectations by adding artificial intelligence to the demonstration. Amazon Alexa was integrated into Sapience which allowed us to ask Alexa which factory was most productive last week. Alexa and Sapience analyzed the data and gave the answer to the tour crowd.
We have many new opportunities to follow up; and we will be working with SEMI on how to help companies in Southeast Asia learn and adopt Industry 4.0.

Following the show, our team spread out to visit the rapidly growing Cimetrix customer base in Penang, Korea, India and China with support from our local teams. See you next year in SEMICON Southeast Asia!